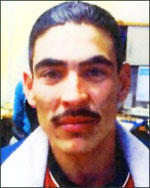 Osvaldo Aldrete Davila
, the drug smuggler who was given immunity by US Attorney Johnny Sutton to testify against
Border Patrol Agents Ramos and Compean
, was arrested on drug charges at the Zaragoza Bridge along our southern border yesterday, Nov 15, 2007. He will appear in court this afternoon and faces a total of 5-40 years and $2 million dollars in fines for drug smuggling.
One can only imagine how many other times Aldrete Davila has smuggled drugs across our border in the past and not been caught.
Monica Ramos did a phone interview with KVIA in El Paso to voice her opinion in the video below.

Aldrete, 27, was arrested by agents of the Drug Enforcement Administration and of the Department of Homeland Security Office of the Inspector General for alleged conspiracy and possession with intent to distribute marijuana in September and October 2005.

The alleged drug-related incidents occurred after Aldrete was shot during a botched drug-smuggling incident near Fabens in February 2005, and after he was given immunity to testify against Ramos and Compean.

Whether Aldrete's arrest will play in the favor of Ramos and Compean, who are appealing their convictions, is unclear.

But San Antonio lawyer David Botsford, in charge of Ramos' appeal, said perjury charges should now be brought against Aldrete.

...

According to the indictment, Aldrete and [Cipriano Ortiz, the owner of a drug stash house] conspired to import more than 100 kilograms of marijuana between June 1 and Nov. 30, 2005. In addition, Aldrete is charged with possessing more than 100 kilograms of marijuana with the intent to distribute on Sept. 24, 2005, and on Oct. 22 and 23, 2005.

Ortiz pleaded guilty to conspiracy to possess a controlled substance with intent to distribute in August and is scheduled to be sentenced in February.

Read the full statement made by Ramos' attorney David Botsford at the National Border Patrol Council website.
(Videos below)
KVIA El Paso Report with a phone interview of Monica Ramos

Lou Dobbs on the arrest

Other Commentary:
Agent Ramos
Gateway Pundit
Patterico's Pontifications
Border Control
KVIA tip from Reader Lone Wolf

Dereliction of Duty

No man thinks more highly of patriotism than I do. The question I want to bring before you is one that I think is the result of an awful moment for this country. Should I not speak my opinions at a time such as this because of the fear of giving offense? If I did I would be as guilty as those who I consider to be derelict in their duty to our nation and all of the people who elected them.
It is natural for man to indulge in the illusions of hope, the hope that all of our elected leaders can be counted on in the enforcement of the laws of our country. In that hope, we are apt to shut our eyes against the painful truth, and listen to the song of that siren, till we find ourselves burden with a task that only the brave and fearless of heart can thwart and fight back.
Are we to be counted among the number of those who, having eyes, see not, and having ears, hear not our entreaty and humble supplication to the leaders of our great country, our great county to deal with the incredible invasion by millions of illegal aliens? For my part, whatever anguish of spirit it may cost, I am willing to pay that price.
I know of no way of judging of the future but by the past. And judging by the past, our elected officials will do nothing unless we the people stand up for our right, the right to have our laws properly administered and enforced at whatever cost.
Because of the in-action of our national government our state, county, and local municipalities are not enforcing the law of our land. According to Federal Immigration and Nationality Act Section 8 USC 1324(a)(1)(A)(iv)(b)(iii)

Posted by: Tom Millican on November 18, 2007 12:25 PM