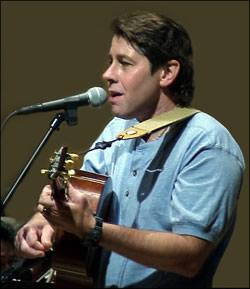 Teacher Bob Haworth, formerly of the groups the Brothers Four and Kingston Trio revival group, was at the Atlanta Bread Company restaurant doing a regular Thursday night show when some of the patrons asked that he play some of his song parodies on illegal immigration he did for KHOW-AM radio in Denver.
Haworth played the songs Can You Get Me In?, which is a parody of an American heading south of the border and demanding rights and to pay no taxes to the Mexican government, and Pizza for Pesos, a song about a man in Denver going to get some pizza for lunch and being shocked to discover he is required to pay in Pesos. Both songs are light and folksy (you can hear a sample of both at the Bob Haworth site).
Apparently though there was another teacher in the audience from Arvada High School in Jefferson County public schools who didn't find the songs funny. So after filing a complaint with the restaurant and including his official school business card, this English teacher, who is believed to be English teacher Scott Murphy, then decided it would be a good idea to teach about this event. He devoted a whole class period to bashing Mr. Haworth to his students calling him a racist and saying his songs were offensive and that Haworth should be fired as a teacher.
Now what is wrong about him including a school business card with his complaint? Well, the school district does nearly $9,000 dollars in business with the Atlanta Bread Company each year in catering. So in essence this teacher was either on purpose or inadvertently making a financial threat against the business if they didn't take action on his complaint.
On October 2, 2007 Haworth received an email from the owner of the Atlanta Bread Company stating "At this point, I don't see any way of reconciling this with you. Good luck going forward," and dismissing him from his gig at the restaurant.
Mr. Haworth has now decided to fight back. He attended a Jefferson County school board meeting and called for the firing of this English teacher for using class time to demean him to students.
As Jake at the Freedom Folks points out, where is the tolerance that so many who support illegal immigration call for? They want us to be tolerant of law breakers, yet if someone does something like sing a parody song, tolerance goes out the window and that person should be destroyed financially and personally. Most people that may have been offended by the parodies might have complained to the restaurant and left, but "oh no" this teacher can't let it go there, he has to enact their communist right to ensure that nobody has free speech during their time out of work... unless of course it is their own and agrees with their beliefs.
The word hypocrite comes to mind, along with the word jackass and a few others.
Haworth to his credit doesn't see it as a free speech issue though:


Mr. Haworth said he would have been willing to take the immigration songs out of his repertoire. "I respect an owner's right to have control over what goes on in his walls," he said. "It's not a free-speech issue. They're paying me, so it's their prerogative."

I agree it is the restaurant's prerogative, however that was not the English teacher's intent. He wanted you shut down from saying anything about the issue which he cares so deeply about. And the proof of his caring so deeply is that he decided to make personal attacks of racism against you in a classroom to a captured audience of students. Simply disgusting.
You can find out more about Bob Haworth, and purchase some of his music, including the illegal alien parodies, at the Bob Haworth official website.
Source: Washington Times
Tipped by: Freedom Folks