I attended the rally in Lakewood, New Jersey Saturday October 20, 2007 that was organized by Diane Reaves. If you don't remember her check out my story on Diane Reaves. After all the hardship she went through, the rally finally came off. The weather was absolutely perfect and there was a beautiful lake for a backdrop. The area was quiet and clean. (The video of the speeches are at the end of this article).

The rally took place at the Lake Carasaljo Amphitheater, which is very nice. Diane did a fabulous job decorating it and putting everything together for the rally.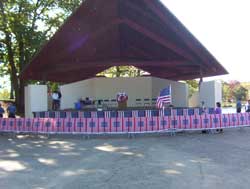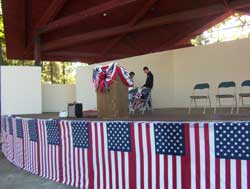 And after all the fiasco with the police chief not wanting to provide security for her August 25th protest, which was canceled, this protest probably had the most police I've seen at a rally. A total of maybe 30 including special operations units.

The nice thing about these rallies is the information you can pick up at them that you won't get elsewhere. Included in the picture above is the first ever Digger's Realm contest. Participants in the rally got an early bird chance at winning a signed copy of a book I'm giving away starting later on tonight. (Update: click here for my review of the book, Culturism)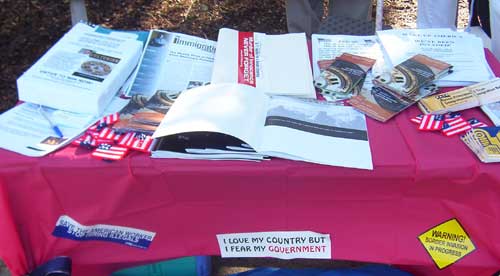 There were a total of between 85-100 participants in the rally according to an early headcount. There should have been more. I feel that the constant changing of venue had an impact on the numbers and the fact that her previous rally was canceled.


The Patriots were out in force with "Old Glory"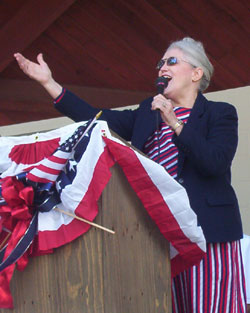 Things got started with the singing of God Bless America, once by someone who could sing and then once again by those off us who can't. You can watch the God Bless America video below to hear this wonderful lady.
Speakers
Diane Reaves emceed the event. The other speakers were
Ruth Miller of Illegal Protest, Dr. Gayle Kesselman of NJ Citizens for Immigration Control, Bruce DeCell of 9/11 Families for a Secure America, Kathleen Appell Media Coordinator PA4ICE, Carmen Morales of You Don't Speak for Me and Paul Topete of the band Poker Face
| | | |
| --- | --- | --- |
| | Diane Reaves | |
| Ruth Miller | Gayle Kesselman | Bruce DeCell |
| Kathleen Appell | Carmen Morales | Paul Topete |

I'm not sure if the speakers were off or what was going on, but I didn't find them very compelling. Ruth had portions I felt were OK, but most of the speakers were running off stats or just not as compelling as I thought they could be. That may seem harsh, but I only tell the truth. After all, you'll be watching the speeches below, so there's no lying to be had. They all had their moments of worth.
Ruth's speech should be timeless for anyone who doesn't know what La Raza stands for and what they have said and done. Bruce DeCell came up and just decided to speak his mind. He ditched his speech and just gave his honest opinion. That was refreshing. Then on came Carmen Morales from You Don't Speak For Me and brought the place to life with her lively and passionate anger at the absolute assault this nation is under with the illegal alien invasion.


Illegal alien supporter screaming at a patriot

The only counter-protesters that showed up was a lady and her two kids and a young man, who may have been her son. She was yelling out stuff during several of the speeches and at one point confronted a patriot verbally. I'm not sure who started it, but it was nothing physical, just some yelling. Of course the media immediately ran to cover the interaction and this one camera team broke out the microphone and camera to interview her. Out of the nearly 100 patriots at the event, I didn't see them going around interviewing them, but one illegal alien supporter shows up and she gets the full attention of everyone.


The cameras run for her

There were many patriotic Americans in attendance as can be seen by some of the signs they brought along.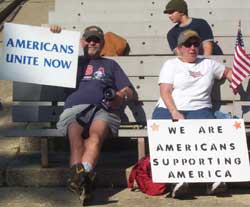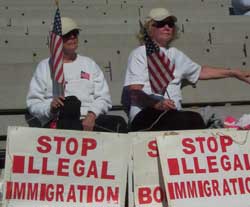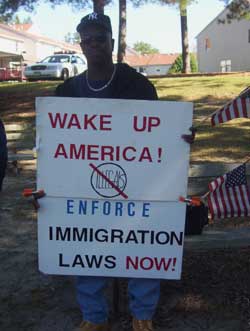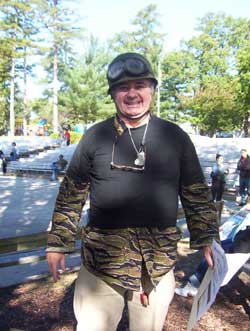 You may recognize Jim (above right) from my previous coverage of the rallies in Harrisburg and Morristown. He was working security at this event, hence the black shirt over his cammy's
I talked with many people at the rally and there was a decent turn-in for my first contest. They truly are a group of patriots who didn't really care if there was a huge group of protesters or not. they all would have shown up anyway, not giving in to the threats and hate coming from the other side.
Afterwards I had the pleasure of having lunch with a group of them.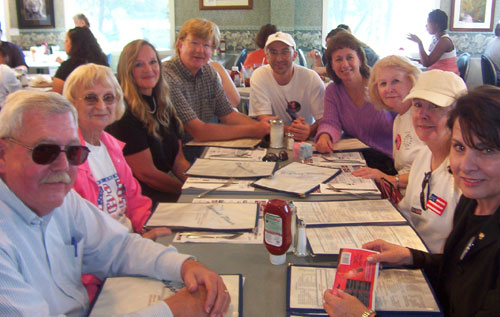 (L-R:) Ray, Nancy, Beverly, Tom, Digger, Ruth, Marge, Alice, Kathleen
Video of all the speeches below.

Speech by Ruth Miller:


Speech by Gayle Kesselman:


Speech by Bruce DeCell:


Speech by Kathleen Appell:


Speech by Carmen Morales:


Speech by Paul Topete:


Lakewood New Jersey montage including God Bless America


Other Commentary: