Police refuse to protect protesters rallying against illegal immigration in Lakewood, NJ. Diane Reaves scheduled a rally and protest against illegal immigration for August 25 - a rally I planned to attend - and then had to cancel the rally on short notice after local police said they would not protect protesters and their right to freely and peacefully assemble as is our first amendment right under the Constitution.
Since that time Diane Reaves has been trying to put together another protest for October 20, 2007 and has been met with opposition at every turn. From the local police to groups saying they could use their facilities for the rally and then backing out after word spreads.
First, the local American Legion backed out of a deal they made with Reaves and then just recently the Old Bridge Elks lodge backed out saying that the Elks "were not sectarian and non-political."
I was thinking of speaking at her event, but thus far have declined because of the lack of a firm location, date and time. If you are in the New Jersey area and can help Diane Reaves move forward on this please contact me.
It seems if you are a legal citizen of this country you are not allowed to use your constitutional rights anymore. However if you are illegally in this country with no right to be here you will have people bending over backwards to help you at every turn whether it be a rally, demands for social services or health care.
Lakewood has been overrun by Hispanic illegal aliens and therefore I have done a little modifying of their "Historic Lakewood" sign they so proudly display - a job this American was proud to do.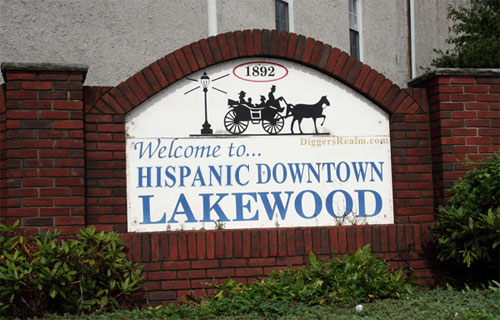 What the hell has happened to my America?

Enough is enough.

For months, Lakewood resident Diane Reaves has been attempting to hold a peaceful rally against illegal immigration, but she has run into roadblocks at every turn. She and her supporters are trying to exercise their First Amendment right to free speech. Lakewood officials should accommodate them. They should make it clear they are welcome to protest in a public space and police will do everything possible to ensure their safety.

Reaves originally planned the rally for Aug. 25 in the Lakewood town square, but it was canceled amid reports of planned gang retaliation. The township said it would not provide an increased police presence for the rally because it was against its policy to do so for private functions. That's ridiculous. Since when is a public protest a private event? Reaves' group has every right to voice its opinions in a public place, and the township has an obligation to provide a safe environment.

After Reaves was snubbed by Lakewood, she tried to line up two other venues — the local American Legion post and the Old Bridge Elks lodge. Each initially agreed to make the facilities available before backing out. Reaves was set to hire police officers to provide security for the Old Bridge event when she received a message Tuesday that the lodge would not host her rally because the Elks "were not sectarian and non-political."

It's sickening that rallies held across the country protesting U.S. immigration policies — and swarming with illegal immigrants — received the police protection these legal U.S. citizens are being denied. Lakewood wasted about $40,000 last year to provide a "muster zone" for contractors to hire mostly illegal immigrants. It went unused — the workers snubbed it — and was dismantled. Why can't the town provide added security for a rally for its legal residents?

In a mass e-mail to her supporters, Reaves pleaded for someone to tell her that her inability to find a site to hold a rally was a dream. Township officials and police in Lakewood should wake up instead, recognize her plight and help find a safe, public place for Reaves and her supporters to speak their minds.

Tipped by: Illegal Protest