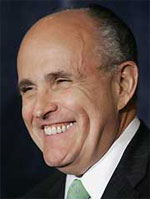 Rudy Giuliani
won't fool me. He headed up a sanctuary city while the mayor of New York City and has countlessly made the claim that there was nothing he could do because illegal immigration is a federal matter. That's funny because it is the same argument that groups like La Raza - and other support groups for illegal aliens - use in coming out against cities, like
Hazleton, Pennsylvania
, who have tried implementing their own crack down on illegal immigration.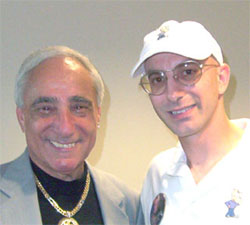 Joey Vento With Digger
In other words Giuliani is in the same boat as them and there really is no way he can dodge this issue and that he is wrong on it. So instead Rudy Giuliani heads to Philadelphia and visits
Geno's Steaks
, the home of
Joey Vento
who put up a sign saying to
order in English and is now facing a lawsuit of discrimination
. I have met Joey Vento and he is the polar opposite of Giuliani on this issue. As a matter of fact you can
watch a video of Joey Vento on the steps of the Capitol of Pennsylvania
speaking out about the destruction illegal aliens are having on this country.

... the landmark Philly restaurant former New York City Mayor Rudy Giuliani plans to stop at later Monday is also famous for another reason: its controversial 'Please speak English' sign.

Joe Vento, the owner of Geno's Steaks, sparked controversy last year when he put up a sign at his store proclaiming, "This is America. When Ordering Please Speak English."

Don't be fooled by this political shyster. He stands for illegal immigration and all the deaths and jobs lost because of illegal immigration.
Tipped by: Freedom Folks