| | |
| --- | --- |
| By / August 21, 2007 04:32 PM | |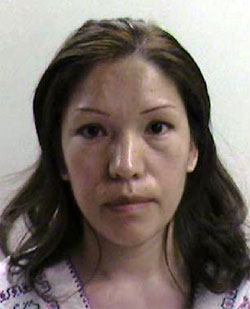 Elvira Arellano Mugshot
Since the arrest of
Elvira Arellano
the posts that I've made throughout the last year have had many commenters. If you haven't read some of the comments on the articles I've posted on Elvira in quite awhile do yourself a favor and have a read. As always you can find the Elvira Arellano category on the lower left navbar under
immigration
.
You can click here: Elvira Arellano to see all my entries on Elvira since day one last year when she took refuge in the church in Chicago.
Two particular entries of note that have quite a bit of comment below the post are:
Elvira Arellano Arrested In Los Angeles!
Illegal Alien Activist Elvira Arellano Hides Out In Church To Avoid Deportation
Go have a read of what both sides are saying about this fugitive illegal alien who has finally received her just reward. Is she a hero or a criminal?


This entry is in the following archive(s):
Next and Previous Entries:
Posted by Digger on August 21, 2007 04:32 PM (Permalink)

She did everything possible to be in this country.Every one has a right.Don't be glad for her arrest...She chose her destiny to be with her son.And Since her son is a citizen of the Great USA.I think he had the right of seeing his mother for that last moment.Everyone Living in USA have a rights that are the same of YOURS.Believe it or not....Read the constitution....OR might will study it...Every immgrant has a right.Not only Mexicans,Hispanics,Chinese,Germans,British.But why do you think the British and The french.....don't immigrant over here....Take a second and study their country beliefs........I disagree that the French hates us.....You think you are in a Great Nation...Yes is better than the one your ancestors left.....
Posted by: Janessa on August 23, 2007 05:59 PM
I find it really sad that this women has broken our laws, used identity theft to stay here and even to get a job CLEANING AIRCRAFT IN A U.S. AIRPORT !!!! This is just unbelievable that she could put all the travelling public at risk and people still feel sorry for her.
If she wants to stay together with her son, take him with her to Mexico. When he is 18 he can return on his own as a US Citizen, but that does not give his mom the right to be a US Citizen.
Posted by: william turnbull on August 28, 2007 05:48 PM
She should NEVER be allowed back.....
Posted by: Dick Hertz on September 9, 2007 06:54 PM