| | |
| --- | --- |
| By / August 16, 2006 08:14 AM | |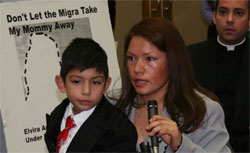 I reported on
Elvira Arellano
this morning, an illegal alien who managed to convince politicians to back her stay here in 2002 despite her illegal status. Arellano has been in the US for 9 years and had been deported at least once previous to her 2002 stay after being busted in an immigration sweep. Senator Dick Durbin (D-IL) and others fought to keep her here in 2002. She then started up an illegal alien activist lobby group called
United Latino Family
.
I guess Elvira Arellano assumed her battles over her illegal status were over and that she was home free. Home free enough to become the founder and leader of a lobby group, consulting with President Vicente Fox of Mexico -- the president of the country she fled from and vows not to return to because it's so horrible. Well her number came up as she received a notice a few weeks ago to appear for deportation yesterday at 9AM where she would more than likely have been tossed out of the country. She failed to do so, thumbing her nose at the system. She should have been thrown out 4 years ago, but this is just a small example of what happens when you don't deal with a problem and let it fester like we are doing currently with our immigration policy as a whole. Eventually the problem balloons and turns into a major issue.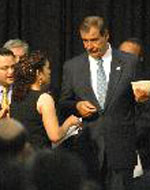 Elvira Arellano With Her Friend President Vicente Fox
Elvira Arellano
's used every trick in the book. She had a child here as an "anchor baby". She played the "my son is sick with ADHD" trick to gain sympathy from politicians, the church and other sympathetic illegal alien supporters. Now she's attempting to be a martyr of the illegal alien cause by fleeing to the Adalberto United Methodist Church and openly daring authorities to drag her away. She took her son with her, thus showing she has absolutely no caring about the torment she could potentially cause him by her actions and that he is just a tool to be used for her goals.
By fleeing her deportation hearing Elvira Arellano is now considered a fugitive from justice.
Let's keep in mind that illegal aliens are just here to work as we read her quotes below in the Chicago Tribune


Taking refuge in a church, a prominent advocate for illegal immigrants publicly defied federal authorities in Chicago who were trying to deport her Tuesday.

Elvira Arellano, who became a national spokeswoman for families facing deportation, had been ordered to report to the Department of Homeland Security by 9 a.m.

Instead, Arellano appeared at the pulpit of Adalberto United Methodist Church in the Humboldt Park neighborhood, vowing before dozens of supporters that she would not return to Mexico "like a coward." She said she would stay in the church indefinitely with her 7-year-old son, a U.S. citizen.

...

Her supporters invoked the notion that lawbreakers can be protected in a house of worship, a tradition that dates to the ancient Greeks.

"If Homeland Security chooses to send agents to a holy place, I would know that God wants me to serve as an example of the hatred and hypocrisy of the current administration," Arellano said

...

"Just because you are in a church doesn't mean you are less deportable in a legal sense," said Joel Fetzer, associate professor of political science at Pepperdine University. "But in a political sense, it looks very bad to be hauling people out of churches as the camera rolls."

The Freedom Folks -- Minutemen in the Chicago area -- have this to say:


Are you getting this? She's here, she's staying here, and to hell with the laws of the country where she's demanding to stay. ... I'd like a better life, too. But you can be sure that I won't try to get it by committing Social Security fraud and demanding to not only be forgiven, but be rewarded for breaking the laws of this country.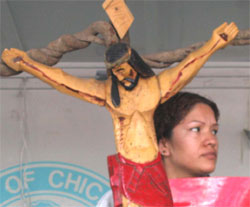 Elvira Arellano Hiding Behind Christ
I personally hope they go in there and drag her out and if the church actively aids and abets her staying in the church I hope they are sanctioned for their actions. She is now no longer just an illegal alien, she is a fugitive from justice.
If we allow this situation to succeed all we'll produce is further flaunting of our laws by any who feel they are above them and that they should be treated in a special fashion.
Elvira Arellano learned when she came here illegally that she could break the law.
Elvira Arellano learned when she convinced a Senator and others to ignore the law and let her stay after she got caught, that the laws didn't matter and that they could be ignored.
Elvira Arellano now hopes to prove that our immigration laws are worthless and with just a simple act like going to a church and hiding out you can escape taking responsibility for your actions and your lawbreaking.
Pretty soon you'll be seeing murderers, child molesters and any other type that "doesn't feel like being arrested" hiding out in churches "indefinitely" and being supported by them.
This woman is not some simple illegal alien. Elvira Arellano is an active participant in setting up political lobby machines in hopes that they could somehow have legalized her before she got thrown out. Elvira Arellano is a political activist. Don't let her "I'm just a poor mom" act fool you as I'm sure it will many people.
Her actions have all been planned. She is not a victim, she is the product of actions that she has planned in advance and known what the consequences could have been from the start. She didn't accidentally come across the border not knowing that she could be removed at a later date. Elvira Arellano knowingly broke the law and now doesn't want to face taking responsibility for what Elvira Arellano's done. Yes, it's Elvira Arellano that's done something wrong, not America, let's not forget that as the media and illegal alien supporters try to spin this into making us look like the lawbreakers. Now that she's lost, Elvira Arellano's crying in a corner and throwing out angry words at the victors in this situation.
The victors being the US justice system and the American taxpayer if the laws in this country mean anything.


This entry is in the following archive(s):
Next and Previous Entries:
Posted by Digger on August 16, 2006 08:14 AM (Permalink)

I admired Elvira for standing for her son, and the right to remain in this country yes, she did wrong buy coming without formal documentation and by using a fake S.S. number to work and make a living but never with intention to commit any crime she is only a hard working woman and a mother. Why does she have to choose between living her son and taking him away? She knows that if she take him with her she taking away from him the opportunity to success and have a better future he will have to leave his friends, his community and family. she was about 20 years old when she has to leave her country but now she does not count. who does count is her son. Please let support her and I hope that all the organization in pro-immigrants will get together and help her . She is not a Terrorist she is not a criminal. She is a MOTHER and a Brave WOMAN. GOD BLESSES ALL!!
Posted by: Yolanda Ochoa on August 18, 2006 01:29 PM
Dear Yolanda, the US will go down if nobody respect the laws. I expect nothing more from you since you appear to hold a latino last name, nothing more than supporting her for breaking the US laws by using a dramatic facade. It's mexico which has failed, NOT THE UNITED STATES OF AMERICA!!
By the way I live in mexico, and I know why Elvira doesn't want to return. There's no future here, but it doesn't mean all mexicans are entitled to go to the USA to "get a better life" regardless they're indeed draining US resources and institutions, why does not mexico help her????
LET MEXICO SOLVE ITS OWN PROBLEMS!!!
GOD BLESS AMERICA.
Posted by: Erick on August 18, 2006 02:27 PM
Hi,I just wanted to say that I would be interested
in marying Elvira to keep her here in the U.S. with her child.
David A.Hesse
918-540-1756
Posted by: David Hesse on August 19, 2006 11:35 AM
This whole situation is an absolute waste of time. She is obviously a criminal like most latinos and deserves to be put in prison, not deported. Let her rot with her other latino gang members in jail while defying the laws of our great country.
For future latino activists; at least learn how to speak and don't disgrace yourselves by sounding like an uneducated trash mouth skank. This woman obviously has little education.
Posted by: Freddy on August 19, 2006 12:26 PM
What's next? Are we going to stop putting other criminals in jail such as bank robbers or murderers? After all, that would take them away from their children and put them in a place where they have no future.
I say send her home. She is an illegal alien and a criminal. Social Security Fraud is a crime believe it or not!
She brought all of this on herself by entering the U.S. illegally.
Posted by: SK on August 20, 2006 04:29 AM
This is a country of laws. Laws protect us. Laws create order. Laws tell us right from wrong. Laws provide the consequences for when something unjust occurs. If there is a law we don't like, thanks to our earliest lawmakers, we are protected by law to speak out against it. We have the power to convince our lawmakers to change the laws. But nowhere in The Bill Of Rights does it say, "persons have the right to disobey/ignore any law he or she disagrees with.". Allowing people to break the law sets a bad bad precedent. It sets a precedent for lawlessness. Not arresting Elvira beccause she is in a church tells me that the INS thinks the law is less important than a building. It is the law that needs to be respected most. If a media-spectacle is what Elvira wants, she should camp out on the steps of the Capitol in Washington D.C. She should dare the INS to arrest her there. It would be crazy irony to see such a disgrace happen right on the doorstep of the American Icon that represents the home of our unenforced laws.
Posted by: russell halfar on August 21, 2006 02:28 AM
"For future latino activists; at least learn how to speak and don't disgrace yourselves by sounding like an uneducated trash mouth skank. This woman obviously has little education."
Yes, obviously this woman is poorly intitutionally educated, which is one of the reasons many parents seek to move to a prosperous country like the United States. In a country where working to feed a household is a family's priority for survival, going to school is not an option.
Migrating to a land that hands out [cheap] labor and guarantees a good education for their children is quite tempting for the families dying of hunger.
Now, to Freddy. Flaunting your so-called education by calling Arellano a "trash mouth skank" almost makes her own vocabulary scholarly next to yours.
Posted by: J. Serrato on August 22, 2006 01:35 AM
"Now, to Freddy. Flaunting your so-called education by calling Arellano a "trash mouth skank" almost makes her own vocabulary scholarly next to yours."
Maybe he's just tired of being called names like "racist" for wanting our laws enforced.
Posted by: SK on August 22, 2006 10:47 AM
It is not about ignoring the law or breaking it. Elvira is highlighting just how the immigration system is flawed. She is shwoing just how we do need comprehensive immigration reform.
NAFTA caused the mexican economic collapsed.
Have we forgotten that in America we can change the laws to make them more fair? And in order to change it we first have to highlight the problem, even if it means breaking it.
example would be when rosa parks broke the law in order to break chains and highlight the problem
Posted by: GERARDO on August 25, 2006 02:07 AM
I don't believe that most Latinos are criminals. However, in the US we have something called "the rule of law." Without it, our society falls apart.
Mexico and other third world countries are a good example of what happens when countries do not adhere to laws-- chaos and a dysfunctional society. People who have a contempt or disregard for the rule of law are not good for the US.
Mexico is not a poor country; it is a country rich in natural resources. The problem with Mexico is corruption, lawlessness, and a dysfunctional economic system. We do not need immigrants who bring these bad habits and attitudes here with them. Legal immigrants who have a respect for the US laws, culture, and its people are welcome.
I can understand people wanting to immigrate for a better life; but they should do it through legal channels. To do otherwise is not fair to the millions of hopeful immigrants all over the world who wait in line and follow all the rules.
Maybe our immigration system does need adjusting; but that does not justify breaking our laws.
Posted by: Christa on August 25, 2006 12:09 PM
Russell, the INS does not think that a building is more important than the law. They are just savvy enough to understand the PR game; they know that Elvira and her supporters were hoping for the drama of government agents hauling out a "poor immigrant taking refuge in a church" with her howling son clinging to her. They did not provide this PR opportunity to her, that's all.
Posted by: Christa on August 25, 2006 02:02 PM
Let the lady stay. She is one of many undocumented in the greater Chicago area. their are literally hundreds of thousands in the chicagoland area, and one of millions in America. Leave her alone. She is just trying to make a living for her child and herself. Look at her: Does she look like that bad of a person? We all make mistakes, even sometimes with the law. No one is perfect. No one has a squeaky clean background. Everyone has a flaw in their past. I know, she is ignoring the immigration office, and defying their orders, but lets face it we need illegals in this country. Without them our country would falter. For the INS to go into a church of worship and arrest her, would be a travesty. Let her have solitude and peace in the church. This is a place of God, a place of worship a place to go when we need attention and the love of christ, a place to get away from all the nonsense of life. Lets have some compassion, and stop scapegoating a already inferior class of people. Put yourself in her shoes. Oh yes, I cannot believe that this story has gotten so much attention. Don't we have better things to worry about in our country and the world. Like, the housing bubble, Iran, North Korea, the ridiculous never ending Iraq War etc.
Posted by: John Lango on August 29, 2006 07:31 AM
"We all make mistakes, even sometimes with the law."
Posted by: John Lango at August 29, 2006 07:31 AM
Yes, and if we get caught, we pay the penalty for it. It's called justice.
Posted by: SK on August 31, 2006 11:49 AM
John Lango says, "Let the lady stay. She is one of many undocumented in the greater Chicago area. their are literally hundreds of thousands in the chicagoland area, and one of millions in America."
I will let John slide with using "their" when he means to write "There". Chicagoland should also be capitalized. What I won't let slide is the logic error he makes when he explains that because there are so many other undocumented or illegal persons, Elvira should be allowed to stay also. Why is that a valid arguement? If more than one person breaks a law, more than one person breaks a law. It does not lend any strength to the argument that the lawbreaker should be excussed. SK makes the point that "if we get caught, we pay the penalty for it. It's called justice." When I am speeding down the highway, and I get caught, I pay the ticket. If I don't pay the ticket, I go to court to contest the ticket. Either way I am held accountable for my own mistake. What I don't do is argue that other people on the highway were also speeding so the police officer should leave me alone. As for, "She is just trying to make a living for her child and herself." In my speeding analogy, what if I was, "just trying to make a living for myself and my son by getting to work on time"? Whatever the reason I break the law, it matters not. I have still broken the law. People no doubt have good reasons to break the law from time to time. That's for the courts to hear. When Rosa Parks broke the law, she was arrested. Her subsequent arrest and trial for this act of civil disobedience triggered the Montgomery Bus Boycott, one of the largest and most successful mass movements against racial segregation in history, and launched Martin Luther King, Jr., one of the organizers of the boycott, to the forefront of the civil rights movement. Her role in American history earned her an iconic status in American culture, and her actions have left an enduring legacy for civil rights movements around the world. Elvira is in a similar place to make a historic decision. Let justice be served. Why would we encourage Elvira to continue living in hiding? Do we want her to be a fugitive for the rest of her life? Do we want the other people in her situation to continue also as fugitives?
Whether or not I agree with granting amnesty to illegals, I am still going be reasonable, logical, and adhere to the precepts we hold so dear. If anarchy is more desireable, let that be argued. I am serious. I don't mean to use the word anarchy with any of the negative associations normally attached to it, but rather an anti-authoritarian society that is based on voluntary association of free individuals in autonomous communities, operating on principles of mutual aid and self-governance. Let me know how we should logically proceed with this discussion. Should it be about picking and choosing which laws to observe in a more anarchist framework? Or whether we truly desire anarchy in the USA?

Posted by: russell halfar on October 10, 2006 08:46 PM
I like the way you think Russell.
Also she can't be making much of a living for herself and her child while hiding in a church. She has to be living on handouts.
Posted by: SK on October 11, 2006 03:45 AM
People wake up!!!!!!!!!!! This is America! Stand up and fight!!! This is not like the late 1800s and early 1900s! Those immigrants were needed and were LEGAL. My word, what has this country come to? If anyone tells me that this woman should stay here I will bring them down with my fists. I'm fighting for America and her laws, what about you?
Posted by: Jakub Kocyan on October 29, 2006 06:40 PM
I want her out of the church and out of our country. She doesn't belong here, she is a criminal. Lets do the same thing she is doing here but in Mexico and you'll see what will happen to us.
How you ever heard about their immigration law?.., did you know that Mexico deport everyone if they enter or stay there illegal?.., so why do they wants us to accept the 12 millions and they don't even accept one person?
Nobody is telling her to leave the country without her child. She can take her child with her and I'm sure nobody will stop her.
Open your eyes. If we accept this kind of situations, we'll have similar things happening after that.

Posted by: Elizabeth Cascante on November 1, 2006 12:58 AM
It is an outrage to see our laws so blatantly ignored. Furthermore, yes Ms. Arrellano is indeed trash, she has no pride and certainly no dignity. Shall we take bets on how many different aid programs she has availed herself of?(Not including the donations shes currently leeching from the surrounding community) Her revolting manipulation of hiding behind the church is cowardice beyond words. Not to mention the fact that she stubbornly clings to a country that obviously does not want her here(hence the laws designed to keep her out & the fed officers at her door.) Shes like the rejected wife that cant let go in the divorce, only we never married her, she just got knocked up on our soil(probably by one of her fellow illegals) and pinned it on the citizens of the U.S. And Presto change-o, instant citizenship for yet another undeserving leech(Yes I know it sounds insensitive but enough is enough and we need to change this blatantly misused and abused law!) I cannot even fathom how she can justify entering a foreign country illegally, attaining employment using fraudulent documents(do you know what would happen if a U.S. citizen utilized fraudulent social security numbers? This would be a felony punishable by law, and no one would care if you did it to help out your dying grandma!) People like her give good, law abiding, hard-working, non aid-receiving, tax-paying American citizens who happen to be Hispanic, like me, a very bad name. And if you Americans who happen to be white, think its difficult for you to voice your opinion without being verbally assaulted and called racist etc. Try being an American who happens to be hispanic with this viewpoint, they will attack you like rabid dogs. So terrible is this threat against any fellow hispanic who holds such views, that I no longer attend anti-illegal immigration events. I was actually threatened with physical violence at the last event I attended, but considering that my state allows both concealed and non-concealed weapons, I am willing to risk my well-being, however, I am not willing to risk that of my son. And just one other thing, I get so tired of being told Im a traitor to "my people" I am an American, American-born, non-immigrant, non-anchor baby, my people are Americans, I love support and respect them and their laws. I am a proud American, plain and simple, not a Hispanic-American, not a Mexican_American. And a word for those who support these law breaking illegals and seem to think they are "my people" : NO SE PUEDE! & VIVA OPERATION WETBACK II!!!
Posted by: La Americana Mexicana on November 1, 2006 03:28 AM
Seriously people get the idea that we are in the 21st century and that it is not ONLY whites VS. COLORED anymore!!! The fact that people are trying to have a better life and give their children a good future does not mean that they are breaking "rules". People nowadays can be so stereotypical! GROW-UP!!!!! So what if we say that they are "my people"? Because for an action to take place there has to be many voices! White people that call themselves "american" aren't really american! just because of the fact that they were born here doesn't make them american, it makes them a citizen and thats all! As for myself, I am happy to say that I am Mexican-American becuase my parents fought their way through rasicm and other hardships, but thanks to god they got through it all and till this day i have a great life and there is nothing more that i can ask for. If i were in Elvira's place i would have done the same, because a mothers love for her child is so superfluous that no one can imagine. That is why "americans" should not judge her for her actions becsude she is standing up for WHAT SHE BELIEVES IN and WHATS RIGHT FOR HER SON!! She is also symbolizing hispanic forces and women rights! So you uncivilized "americans" should look at things from another view... if you don't support us than thats fine, just shut your mouths about everything, if you personally don't have a clue of what it feels like to have to want a better future, but risking your life for it! So if i were all of you racist, stereotypical "americans" (which I'm not, thank GOD!!!) that i would think twice about what i would say next time!
Posted by: Joanna on November 13, 2006 08:31 PM
Hi,I just wanted to say that I would be interested
in marying Elvira to keep her here in the U.S. with her child.
David A.Hesse
918-540-1756
Posted by: David Hesse at August 19, 2006 11:35 AM
It's ILEGAL to marry someone to allow them to stay in the country.
Joanna, you are such a big supporter, is it ok for her to use YOUR SSN? She's not standing up for any thing but herself. Situations like this is why illegal aliens children shouldn't be granted automatic citizenship.
Posted by: SLK on November 13, 2006 11:04 PM
I sympathize with Elvira being pressured to leave the United States. She oviously has created a support system here.
But using a false social security number is a very serious crime and a blatant disregard for our system, let alone a felony offense. Immigration should not be granted to lawbreakers, child or not.
Automatic citizenship? A RIGHT to stay in this country? You're kidding? Is there any country in the world that grants this? Citizenship is something an immigrant works hard to EARN. It's what makes us respect immigrants.

I believe that every action Elvira has taken has been for her own self-interests first.
Elvira certainly has energy and stubborness -- I just wish she would use it to improve the conditions from within her native country. Mexico has failed it's people and needs activists at home to initiate changes.
Posted by: Amanda on November 15, 2006 10:27 PM
Joanna's comments are so stereotypical and ridiculous. We should shut our mouths if we don't agree with her? Wanting our laws to be enforced is not racist, Elvira intentionally broke them and she should be deported. I am trying to have sympathy for her but I can't seem to muster any. She knew exactly what could happen if she came here illegally and that was a risk she took.
I think this is a slap in the face for the immigrants who worked hard to come here legally.
Posted by: Katy on November 17, 2006 03:10 PM
If anyone knows how I can get in touch with her, please e mail me. I am a documentary filmmaker working on the subject of illegal immigration. I would love to interview her.
production1020@yahoo.com
Posted by: gmckail on December 19, 2006 04:53 PM
Funny,so the USA is a country of laws??? Yeah. I guess, like the laws that said it was ok to steal the land from the Native American tribes who were here eons before the so called "settlers" "pilgrims" and host of supposed "Discoverers" that discovered a place where people already lived. Oh, and I forgot, about Christopher "The Mass Genocider of the Americas"Columbus. Gee, I wonder why England threw those nice pilgrims out of England? Could it be that they were undesireables and criminals? Oh, and I forgot the laws that allowed the USA to practice Biological Warfare on the native Americans who the US government forcefully moved into "concentration camps" called "reservations" and poisoned their blankets with small pox, syphilis and a host of other nice little bugs to show them real homestyle USA respect for rule of law. Saddam Hussein would have definitely approved of these tactics I'm sure ! And just in case the Biological agents did'nt do the job, they forced marched them during the winter. While we're at it, lets not forget the Japanese American Citizens who were forced into concentration camps and had their property sold for pennies to vultures who took advantage of a dispicable situation.Then you also have the laws that allowed white US citizens to enslave and kill the blacks at will down south.It was'nt that long ago that NON white USA born citizens had to drink water from colored only water fountains and had to use colored only facilities if they were not white. Atta boy ! Way to go, marvelous laws ! Then the USA not being happy just being a country of laws goes international with ilegal wars throughout Central America in the 80's which killed millions of innocent people. But remember, the USA is a country of laws ! What about Iraq? As far as I know, no Iraqi did squat to me or my family prior to the USA's totally ilegal and immoral invasion of Iraq. Yet we totally ilegally and immorally destabilized the whole world ! Damn I'm really proud we're a country of laws!!!!! Any more laws and we will have to ressurect Saddam Hussein to be available as a 2008 Presidential Candidate.His party will be called the US Mother of ALL Laws Party ! By the way, like it or not, Latinos and so called minorities who ain't really minorities any more will be the new power in the USA real soon, like yesterday.
Posted by: Pedro Rodriguez on February 27, 2007 04:13 AM
Pedro, I am always amazed when I see people argue that this country was taken from the Natives back in the day. I actually hear more from people other than natives. I wonder that if you feel it was such a bad thing to see a people lose their identity and language and culture to another group of unwelcome invaders who force their ways and culture and language upon them? n hind-sight would it had been the right thing for the Natives to kill all of the colonists so they could protect their land and people? If so, then why is it so wrong for U.S. citizens of today to preserve their culture now?
Besides, just because of this countries past doesn't mean that we should ignore the illegal alien problem. Also, don't you realize that this country was going to be colonized by some country anyway. The same thing would have happened, natives killed, slavery, etc. Except, the U.S. wouldn't have ended up the country that most people want to immigrate to.
Do you want us to believe that Latin America just started speaking spanish out of the blue??? They are no different, except that those countries suck now.
The Native Americans and the slave descendant are the only minority group that should be allowed to use their history as a point to argue as they are the only groups that didn't come here on purpose.
Americans want their traditions, culture, language and services respected, and it isn't.
Posted by: joeyindc on March 17, 2007 05:47 AM
Joey,
I agree with you about Native Americans being allowed to use their history as a point to argue. My ancestors were on this continent building large cities, grand temples, and amazinginly impressive artwork when yours were running around in Europe many years away from any semblance of civilization.
get the point Joey boy? WE ARE NATIVE.
Posted by: Peter Anuahaca on March 17, 2007 11:53 PM
To freddy, you think all latinos should be sent to jail, well let me tell you that every time you are eating a salad , always keep in mind that all that vegetables was picked by inmigrants workers, hard working peolpe that all they want is a descent life to live. by any chance are'nt you a latino? god bless america because america is made from inmigrants from all over the world.
Posted by: obet on March 22, 2007 06:26 PM
TO ALL AMERICAN ACTIVIST: YOU WANT TO SEND ALL INMIGRANTS BACK HOME, WHAT ARE YOU THINKING THIS IS OUR HOME, WE DID NOT CROSS THE BORDER THE BORDER CROSSED US. SO GET IT IN YOUR HEAD WE ARE NOT LEAVING,WE ARE HERE TO STAY FOR GOOD. THIS IS TO JAKUB KOCYAN IF YOU ARE FIGHTING FOR AMERICA LAWS YOU ARE IN THE WRONG DIRECTION, FIGHTING WITH YOUR FISTS THAT TELLS THE EDUCATION LEVEL YOU HAVE COME ON GROW UP BOY!
Posted by: charro negro on March 22, 2007 06:47 PM
This woman committed a crime by illegally entering the U.S. She should be immediately deported and if she doesn't want to leave her son behind, then he should go with her. If she wants to follow procedures and come back to the U.S. as a legal citizen - fine. However, it's not fair to the people that enter our country the legal way to provide amnesty to people that have already omitted and disobeyed the laws of this country. Additionally, the people aiding and abetting her should be criminally prosecuted for breaking the law as well.
Posted by: Charlane Dawson on April 10, 2007 11:03 PM
i agree that this woman committed a serious crime and that she needs to pay for it, but for those of you who are sitting here and Degrading this woman calling her uneducated and what not, then you have the nerve to say that latinos are always breaking the law. that is the most ignorant thing i have ever heard and quite honestly you must not be the most educated person to talk the way you do....
Posted by: kimc on April 12, 2007 02:45 AM
im now in order of deportation, i came into the country legal and started doing immigration papers, i been trhu very rought times here in the states grouwint up and now since some things got missed and didnt finsh up im facing deportation, im married now and i have a 3 yr old ....i would die if i leave the country to never see them again.
Posted by: Johana on June 10, 2007 02:27 AM
elvira
tu lo que estas es aprobechandote del nene.y estas faltandole el respeto a las leyes de Estados unidos.y estar queriendo que todos los indocumentados agan lo mismo que tu lo que tienes que hacer es largarte y llevarte atu hijo y dejar la iglecia para los que deverdad los necesitan. tu no lo nesecitas. lo tuyo es poca verguenza
Posted by: mayra lebron on August 12, 2007 12:28 PM
ELVIRA,
TU ERES UNA FALZANTE ESTAS OCULTANDOTE DETRAS DE TU HIJO Y TU LO SAVES EN TU INTERIOR SAVES QUE ES LA VERDAD LO QUE TU ESTAS HACIENDO ES PONIENDO AL NENE A A SUFRIR PORQUE ESE NINO SI TU NO LE HACES ESE ESCANDALO O MEJOR DICHO ESE CIRCO EL NISIQUIERA SABRIA QUE ES IMIGRACION. POR QUE LOS NINOS A ESA EDAD HACEN LO QUE SUS PADRES LE DICEN.Y VIVEN DONDE SUS PADRES VIVAN .A DEMAS Y TAMBIEN DONDE EL NINO VIVA EL CERA CIUDADANO Y PODRA VENIR A USA CUANDO EL QUIERA.TU LO QUE ERES ES UNA BUSCONA,ESTAS TRATANDO DE ENGANAR A TODOS. Y SI ERES TAN CRISTIANA DEJA DE ESTAR UTILISANDO ALA IGLESIA,FARSANTE HIPOCRITA.SE TE NOTA LO HIPOCRITA QUE ERES .POR ESO SE DICE QUE MAS VE EL DE AFUERA QUE EL DE ADENTR,TU ESTAS ENGANANDO ALOS QUE ESTAN A TU LADO PERO NO ALOS DE AFUEERA NO SE PORQUE IMIGRACION A TARDADO TANTO.

Posted by: PHOEBE on August 13, 2007 12:11 PM
HIPOCRITA
,MALA MADRE,UTILISANDO LA IGLECIA PARA TUS PROPOCITOS.OJALA Y YA IMIGRACION TE SAQUE DE TU ESCONDITE
Posted by: page on August 13, 2007 05:43 PM
QUETE SAQUEN QUETE SAQUEN QUETE SAQUEN................
IMIGRACION SAQUENLA YA .ESA DELINCUENTE QUE LO QUE ESTA ES PROMOVIENDO A LOS DEMAS A QUE AGAN LO MISMO.A QUE LE SIGA FALTANDO A LAS LEYES.ESA MUJER COMETIO FRAUDE Y TRATO DE ENGANAR A LA LEY USANDO DOCUMENTOS FARSOS.ES HORA YA DE QUE LA SAQUEN Y QUE SE PONGA LA LEY Y EL RESPETO A ESA DELINCUENTE,PORQUE ELLA ESTA DESAFIANDO ALA LEY Y ESTA FALTANDOLE AL RESPERTO A LOS QUE AN PASADO TRAVAJO PARA HACERSE CIUDADANOS Y LO AN HECHO HONRRADAMENTE Y PARA ELLA ES MUY FACIL UTILISAR A SU HIJO PARA QUE POR ESA CARA DE HIPOCRITA SE LA REGALEN.NO ES JUSTO PARA LOS DEMAS QUE AN TENIDO QUE LUCHAR FUERTE PAR HACERCE CIUDADANO.SI ASI FUERA CUANTAS MUJERES TENDRIAN QUE DARLE TAN FACIL LA CIUDADANIA,PORQUE LA LINDA DE LA ELVIRA CARA DE ANO LE DA LA GANA DE QUE HAY QUE UTILISAR LOS NINOS Y BUSCAR UNA IGLECIA PARA BUSCAR FAMA PARA QUE LA DEJEN AQUI O SEGUIR FALSIFICANDO DOCUMENTOS COMO ESA MUJER.YA ES HORA IMIGRACION NO PIERDAN MAS TIEMPO, SAQUENLA ES UNA DELINCUENTE NO ESPEREN MAS TIEMPO.CUMPLAN CON LA LEY SE GUN LO HICIERON CON EL BALCERITO TERMINEN CON EL CIRCO DE LA RIDICULA ESA FALSANTE HIPOCRITA.YA TERMINEN CON EL CIRCO.
Posted by: page on August 13, 2007 06:13 PM
A country of laws ha? We (USA) break our own laws for convience, like in the case of US CITIZEN Jose Padilla. Regardless of his crimes, 5 years in jail no charges,tortured and no rights. A US CITIZEN.
If the USA can ignore it's own laws for convience, why can't the illegal aliens? just a thought.
Posted by: dan on August 17, 2007 03:18 AM
You can rationalize the fact that this woman broke the law anyway that you want. The fact is, she broke the law several times and should be deported. The fact of the matter is that there are legal ways to enter the U.S. Mexicans feel that this is something that they can violate. As they stay, they feel that their culture is above that of the US culture. I recognize that this country is built upon the immigrants that came here. Their individual cultures allowed a melting pot that is our culture now. The difference is that their individual cultures did not overshadow the fact that they obeyed the laws coming here and when presented the opportunity, the integrated themselves into the US culture, adding value. The current illegal immigrants coming into this country are criminals, that once here, have no intention of assimilation. In fact, many don't speak english, or have any desire to. They will establish their "Little Mexicos" all over the US. For those who say that the the US will fail if we deport the immigrants, I say let them see. The US has a way of overcoming issues, and we will conitnue that heritage. You really want to come to the US? Do it by the established methods, we're happy to have you. Don't want to follow our laws? Get out.
Posted by: Dave on August 18, 2007 08:19 AM
She was arrested today and it's about time. She doesn't want to be separated from her child so she can take him back with her. If she wants to live in the US, she can come back and do it legally. This country was built by immigrants - immigrants that came here legally. They're draining our healthcare and school systems because they don't contribute and we can't afford any more taxes to make up the deficit. I don't understand why they think our laws apply to everyone but them and they're so blatent about it. They did themselves a disservice with all the protests and rallies because now they have American's enraged. A good start would be to learn to speak English, get rid of the Mexican flags and assimilate into society.
Where is her husband in all this?
Posted by: Dennis on August 19, 2007 10:47 PM
I say let her stay. Then immediately put her in prison for Social Security fraud.
Posted by: Jason on August 20, 2007 09:39 AM
I do not like the fact that they liken her to a civil rights activist. She is not a legal resident of the United States which means that she forfeits ALL legal rights in this country!! In order to have "rights" in a country by law then you need to be a legal citizen and NOT stealing a Social Security number! What if she had committed a crime with this stolen id? Would people feel so bad for her then? What about if she caused this person horrible credit? She is a criminal..its one thing to come here and get a job w/o a number but to STEAL a number makes her a thief and I do not feel a bit sorry that they deported her, she should do what anyone else who comes from any other country does, learn the language and apply to be a citizen....If you chose to be in this country do it legally and respect it. No one asked anyone to come here so by choice they came and they should not expect anyone to bow down and cater to them while they break laws (Social Security stealing is a crime and one thats jail time!!) I have no issues with anyone coming here legally, making their own way (meaning working a legal job, w/o welfare that should be going to people who PAY taxes and can and do abide by the laws in this country) and learning the language!!! Education is falling behind because we are not forcing people who come here to learn the chosen language! I have several friends from Mexico and their parents came illegally, yes, but they learned the language and got green cards and then applied to be citizens, their children know English and cannot stand people who come here and refuse to learn English, steal SS numbers and break the laws claiming they do so because they do not understand English ugggh:(!
I am particularly angry about it because an illegal stole my SS number and has caused me untold issues!! So I wish they would throw her in jail. And if she is so upset about her son being separated from her she should take him with her goodness sake!
Posted by: Kim on August 20, 2007 05:29 PM
charro negro
I am Native American and NO it isn't your land originally...we were here first before anyone else...so if anyone has that claim its any Native American..and I do not want anyone here who is not willing to become a part of the country or its laws but wants to commit crimes and then say everyone should feel sorry for them!!! Anyone who chooses to come here should A) Learn the language chosen, which is English..not Spanish, and if anyone wants the NATIVE language to be spoken then everyone should be forced to learn all the different Indian languages and that includes anyone of Hispanic origin B) Abide by the laws and C) Not steal SS numbers and/or commit any other crimes because they know they are not traceable! I think illegals are misunderstanding people and legal Mexican as well. What people are frustrated by is that illegals are using the aid that people who pay the taxes to fund this aid should get, they are driving the wages lower, committing crimes without a care because they can come and go as they please and stealing people's birth certificates and SS numbers oh and they refuse to learn English and are forcing people to learn Spanish in order to get anything done in a country that was established in English and bought from Mexico after they stole it from the Native Americans..soooo really...and Mexico did not own ALL of America so no they do not have a right to just come and go as they please whilst breaking the laws period. So no one can use that "but we are natives" argument except for NATIVES!
Posted by: Kim on August 20, 2007 05:43 PM
Oh and also look at the fact that three illegal immigrants killed and raped minorities (one whom was a 5yr old!!!) so I def. do not want anyone of THOSE illegals being likened to the civil rights movement!!!! What is funny is that Mexico and illegals are crying how unfair we are by deporting, but holy smoly if they commit a crime they go back to Mexico and both Mexico and these illegals are crying that its unfair to expedited those criminals back to America!! Outrageous!!!!
Posted by: Kim on August 20, 2007 06:25 PM
"A country of laws ha? We (USA) break our own laws for convience, like in the case of US CITIZEN Jose Padilla. Regardless of his crimes, 5 years in jail no charges,tortured and no rights. A US CITIZEN.
If the USA can ignore it's own laws for convience, why can't the illegal aliens? just a thought.
Posted by: dan at August 17, 2007 03:18 AM"
DAMN - the truth hurts!
Posted by: Lendon Netizen on August 20, 2007 06:31 PM
Posted by: Jason at August 20, 2007 09:39 AM
"I say let her stay. Then immediately put her in prison for Social Security fraud."
Really like this idea too!
Posted by: Lendon Netizen on August 20, 2007 06:35 PM
white people are also illegal here america is not even their country they all came from europe,irelan ext. and brought thier killing deases to this country. And also the major mental crimes are done by the anglo saxon= white trash.
Posted by: norma on August 21, 2007 03:16 AM
some of you are so ingnorant, the world belongs to any one. Especially USA its made of all people of the world and everyone is american. If then everyone should be diveded and all go to their original country chinee to china whites to europe, mexican to mexico. and salvadoraninas to el salvador. ect....
Then the usa would be deserted. but the origals american which of course would be the native americans. who were misstreated by the ignorant white people who stoled their country now who is illegal here. Mexicans were not brought here to the u.s. they were already here california. texas new mexico same thing happend like the indians .
Posted by: norma on August 21, 2007 03:25 AM
GOOD GRIEF will people get a freakin clue! No one is bitching about immigration! We are ANGRY because of people coming over here committing crimes, taking all of the aid that they REFUSE to pay for, REFUSING to learn English and trying to force everyone to learn their language (whilst no OTHER immigrants are doing this, which is the reason why no one is bitching about those illegals), no other illegals aside from Mexicans are demanding that we take care of them and their 5 or more kids, whom now that they are US citizens could go to school for free but for some unknown reason refuse to do so, rather be in gangs! Living in 2 bedroom apts with 8 or more people and then beating or fighting black people because according to them we are lower on the totem pole and yet then people have the nerve to liken this thief Elvira to Rosa Parks..grrrrr......who was it that beat those black boys to death because they are black? 3 ILLEGAL Mexicans!!! Who rapes women and girls so much around here? Mexican Illegals!! Who compromises most of the gangs in California? Illegal Mexicans! Who steals SS numbers and birth certificates? Illegal Mexicans! I will clean my OWN gotdamned bathroom, mow my own lawn and clean up my own freakin trash rather than someone to come over here and assume they can do whatever the hell they want because we are too snobby to be maids hahahahha...........there are plenty of Asian illegals, African illegals, Russian illegals who would love to take over all those illegal Mexicans positions....and they wont do any of the crap that these illegal Mexicans are doing!! Look at the drop out rate among Mexicans! Yet they are here to better themselves? How many of these kids whose parents just about killed themselves to get here and resorted to stealing, are in college? A small amount, the rest have babies force the government to pay for those kids and housing and food and healthcare or they commit crimes and/or join gangs!! Thats what you defenders of this behavior call bettering oneself? No I believe that the people illegally immigrating from Mexico are already criminals..they are just coming to the USA because we are too stupid (Unlike the Mexican gov. whom is wanting open immigration so they can get rid of their scum) and end up letting them abuse the system. NO ONE should get aid in any form unless they A) speak the language B) Do not commit any crimes and C) are at least working on being a citizen...or getting a green card and I think if anyone hires an illegal than their business should be shut down immediately and they should be charged with hiring a criminal and aiding and abetting because they knew that person had stolen and ID from an innocent person who did not deserve that just so that person can "make a better life" for THEIR family...so we are the selfish ones? They go out and break laws all over the place and steal a persons "life" essentially all in the name of their family and yet Americans are wrong? We are selfish? LMFAO
And I by no means mean ALL Mexicans who come here illegally are criminals but sadly the large amount I KNOW of ARE!

Posted by: Kim on August 21, 2007 01:33 PM
Better than a thousand hollow words, is one word that brings peace. -Buddha
Posted by: Milly on August 21, 2007 02:32 PM
Since when did Buddhism promote thievery and law breaking? Or selfishness for that matter?
Well it does not, it is a peaceful religion and people are honest and do not ruin the lives of others for their own purpose as this woman did, so that does not apply here. The only word that can bring peace is her saying "sorry".........to the people she claims to represent "honest and law abiding as much as they can be illegals" who do not steal ids, who go out and work hard with little pay because they refuse to steal a persons life (essentially thats what happens when someone steals a persons SS Number)....and to the person whose life she ruined by stealing their id and then committing a crime whilst using this stolen SS number.
Posted by: kim on August 21, 2007 03:59 PM
ELVIRA'S SONG at myspace. Elvira is a hero. Visit myspace.com/ELVIRASSONG
Yeah just like Jesse James or Bonnie and Clyde right? Criminals who become heroes... She doesn't deserve anything but the big fat ICE boot she got in her ASS. She was deported before and caught a second time, but THIS time she was using fake ID of some innocent American citizen to work at O'Hare Airport cleaning the INSIDE of airplanes. HUH??? Just how many people are cleaning the inside of airplanes who the government canot truly identify? Not only should she have been deported (yeah!) but she should have been prosecuted for using and stealing someone's identity to work at the airport.
In addition, Slim Coleman and Emma Lozano should be in jail right now for aiding and abetting a FELON FUGITIVE from justice. I don't care if they do think they are safe in a church. They should be prosecuted according to our laws and I and many others DEMAND IT.
Posted by: Ruthiness on August 21, 2007 04:28 PM
some of you are so ingnorant, the world belongs to any one. Especially USA its made of all people of the world and everyone is american. If then everyone should be diveded and all go to their original country chinee to china whites to europe, mexican to mexico. and salvadoraninas to el salvador. ect.... Then the usa would be deserted. but the origals american which of course would be the native americans. who were misstreated by the ignorant white people who stoled their country now who is illegal here. Mexicans were not brought here to the u.s. they were already here california. texas new mexico same thing happend like the indians .
Hello IDIOT! Most of us were BORN HERE IN THE US. I have NEVER been to Europe so I don't plan on going ANYWHERE. And let's take a look at the history of Mexico - if Mexicans really want to complain to someone about abuse they should start with SPAIN. It is not just white Americans who are guilty of running out the indigenous people of a country. This is the way the world worked and still works. The strongest survive. The Indians were primitive and backwards. Just think of how this country would be now had we not populated the US and made it the GREATEST COUNTRY IN THE WORLD? If it isn't, then why do so many people want to come here? Do you think people would have wanted to come here by the millions if the Indians still ran the US? I don't THINK so!
Posted by: Ruthiness on August 21, 2007 04:33 PM
white people are also illegal here america is not even their country they all came from europe,irelan ext. and brought thier killing deases to this country. And also the major mental crimes are done by the anglo saxon= white trash.
Ahhh.. racism at its finest. And guess what? The majority of rapes and incest are perpetrated by Mexican men = brown scum. The majority of drunk driving fatalities are caused by Mexican men. We don't need that kind of "immigrant" thank you very much. Get the flock out of country NOW.

Posted by: Ruthiness on August 21, 2007 04:36 PM
I think most of us are missing the point here. We have made the mistake of categorizing this situation into issues of immigration, politics or family rights. It doesn't represent ANY of these things!
What it truly hinges upon is our definition of what a U.S. citizen is. What qualities, attitudes and characteristics define citizenship. Is it only a simple matter of geography?
Being a citizen confers rights.
Merely living here only responsibilities to obey the laws of the land. Not make laws. Not elect leadership to represent you. You only gain the right to vote when you become a citizen!
As long as Elvira Arellano is still flying the Mexican flag and speaking only Spanish, she is actively insulting the land of which she desperately seeks membership.
I believe that everyone living in America should have a command of the English language. We talk about conservation of natural resources. We waste many resources translating every written warning into Spanish (which many immigrants can't even read, how's that for irony?), having to record messages in both English AND Spanish to satisfy the needs of people who refuse to learn English; we take resources from the 3 R's of education by requiring time out for ESL classes that run parallel to the regular curriculum, while offering our own citizens a substandard Spanish (foreign language) curriculum.... Our tax dollars pay for all of these things.

=============================================
What our children are taught in school:
http://bensguide.gpo.gov/3-5/citizenship/responsibilities.html
Responsibilities of Citizens
Citizens of the U.S. can participate in their government This process insures that power will always remain where it belongs - with the people.
The most important right citizens have is the right to vote. By voting, the people have a voice in the government. The people decide who will represent them in the government. Before voting in an election, each citizen should be well informed about the issues and candidates.
The government may call upon citizens to serve on a jury. The members of the jury need to decide the case in as fair a way as they can.
Every person is expected to obey the laws of the community, state and country in which he or she lives. All Americans are expected to respect the rights of others. All persons living in the U.S. are expected to pay the income taxes and other taxes honestly and on time.
========================================
Posted by: nothereoranywhere on August 22, 2007 10:51 AM
There are hundred of thousands of people on the same situation, also there are several other illegal aliens that could be a better slogan than her to support a campaign for the immigration reform. She's a criminal she entered the country illegally, used a fake ID and social security card to get a job on a maximum security zone inside the O'Hare airport putting all our lives in danger. I support the legal immigration to this country or any other always observing the laws.
Posted by: Cesar on August 23, 2007 10:28 AM
What kind of hero is she?! A hero doesn't leave her 8 year old son behind! What is she going to do about her kid? Instead of fighting for her son to have him near her, she is protesting for illegal alien rights. A person who leaves her 8 year old son behind is NOT a hero! What kind of rights if she giving her son by leaving him behind?!?! A hero...NOT IN MY BOOK!!!!
Posted by: Esther Lugo on August 24, 2007 09:07 PM
Good education in America? $$$$$ That is a big lie!!!!

Well, it was so easy for the first European immigrants to invade a territory where existing human settlements were technologically disadvantaged, as it was easy to wipe off almost every native from their own land. Up above, I've read the word "criminal" several times referring to people that break the immigration laws. It is irrefutable that the colonization and foundation of the United States were based on a violent invasion and massive murder which is the worst kind of crime ever.
That is the origin of a legacy for a great country made from immigration, but where nationalism is rapidly acquiring a xenophobic and racist spirit that is poisoning the mentality of new generations. Now, the irrational tendency is to create a society of monolingual, uncultured and arrogant (in a stupid, ignorant way) individuals while other countries are widely open to culture and that provide quality education regardless of the economic circumstances of individuals.
So please Americans, to make this country greater you have to make yourselves better by getting up from the couch and by stopping so much hate as a first step to grow as humans.
By the way, my native language is Spanish and I speak other three.
Posted by: Reginaldo on August 25, 2007 12:49 AM
For Yolanda Ochoa,
If you love Elvira so much, pay for her to learn English, become a U.S. citizen, and make sure she doesn't spread her legs to stay here.
She's a 'ho who chose not to do the right thing but advocates others breaking the law.
Your type, Yolanda, never cried when Elian Gonzalez was dragged forcibly by the FBI to Cuba. I think Saul should join her in Mexico - after all, she's buds with Vicente, and that bastard can pay for her and him.
You apply for citizenship, you learn English, and you are a good American. Otherwise, stay the bleep home.
From someone whose grandparents did the right thing - no whores like Elvira...
Hasta Lumbago.
Posted by: AR on August 25, 2007 04:25 PM
Elvira,
As a US Citizen myself that lived in latinamerica and daugther of latinamerican parents, currently living in the USA, know the pain of leaving your family, friends, culture, country behind and start a successful life in the USA, rather than staying and beliving that things are going to get better when in actuality only the richer are getting richer and the poor are getting poorer in every latin country.
For 16 years I lived the hardship that overcomes hapiness, honesty because of lack of jobs, opportunities, money. But just like you decided to leave your love ones behind in Mexico to come to the US you too decided to leave your son behind. From the point you left Mexico 'til last week that you were forced to leave the US, you decided to leave your son, you decided to hurt your son and the rest of people who willingly play by the rules.
Your an emberrasement because you believe that after several criminal, yes you are a crimial, actions on your plate, having an "anchor" child, using your child for your own benefit, and think that with first grade education, inarticulate language can convice activist groups, judges, or even the government to ease your legal status in the USA.
Don't blame others for your decisions, mistakes. Now that you're back home, fight with the real ones to blame for separating families rather than becoming friends with Presidente V. Fox and point the finger to USA. Not everyone gets what they want, specially when you bash USA after deportation. Shame on you Elvira.
Posted by: Sarita on August 27, 2007 11:38 PM
Yeah let's just let this scumbag run our country .... might as well we are not getting any results from our congress... NOT we need to man up and start shooting these A holes protect our borders and let all these others fend for themselves we don't need them!!! Bring our troops home and defend our own land
Posted by: Dick Hertz on September 9, 2007 06:28 PM
FIRST OF ALL TO THOSE IGNORANT PEOPLE NOT ALL LATINOS ALL CRIMINALS 2 OF ALL THE LATINO WORD IT DOES NOT ONLY MEAN MEXICANS IT MEANS MANY THINGS SALVADORIAN,COLUMBIANS,PUERTO RICANS, ETC SO UNFORTUNITY U GUYS NEED TO GET A LITTLE BIT OF INFORMATION AFTER U GUYS OPEN UR MOUTHS ALRIGHT BACK IN THE DAYS WE OWN HALF OF THE UNITED STATES THE WHITE MAN RAPED THE BLACK WOMEN THATS HOW WE GOT THE COLOR BROWN THEN COLUMBUS DIDNT INVENTED THE UNITED STATES THERE WERE ALREADY PEOPLE IN THIS COUNTRY SO U GUYS SHOULD GO BACK CUZ THIS LAND WAS OUR FIRST. U GUYS HAVE ANY QUESTIONS OR W/E TALK SMACK CUZ THAT ALL U GUYS WOULD DO IN THE INTERNET JUST EMAIL ME
90.JOKER@GMAIL.COM
Posted by: ALAN on February 5, 2008 04:16 PM
JUST BECAUSE YOU ARE BORN IN THE 3RD WORLD DOESNT MEAN YOU ARE ENTITLED TO THE 1ST WORLD.
Posted by: josh on June 10, 2009 10:55 AM
yes i sorry for her
but there are immigrants who come to the usa legally
and dont do these kind of things .
so she committed fraud but they did not have to sen swat wow that was cold
Posted by: Patty m on August 16, 2009 04:18 PM