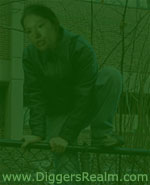 Elvira Arellano
, the fugitive illegal alien who has publicly "hidden" herself in a church in Chicago for a year, is on the run. Arellano slipped out in secret from
Adalberto United Methodist Church
in Chicago and took a three day car trip to LA. I'm wondering if she hid in the trunk.
She is reportedly now hiding out in Our Lady Queen of Angels Church in Los Angeles.
Running from one sanctuary city to another, I'm sure that Elvira Arellano thinks that she will continue to get away with breaking our laws. I'm sure crossing state lines as a federal fugitive just increases the charges against her, but as we've seen in the past our federal law enforcement - in the form of a weak and incompetently run Immigration and Customs Enforcement (ICE) headed up by Bush crony Julie Myers - will continue to remain ineffective at resolving this issue.
Now it's up to our friends of American citizens in California - namely groups like Save Our State and Gilchrist's Minutemen - to step up the pressure on this law breaking "activist".
From the Chicago Tribune with the sanctuary title of Immigrant activist arrives in L.A. How about a little truth in your title there Chicago Tribune?


Elvira Arellano, the illegal Mexican immigrant who avoided deportation for a year by taking refuge in a Humboldt Park Church, arrived in Los Angeles today and is expected to address a march for immigrant rights later this afternoon.

Arellano, her eyes puffy from a lack of sleep, arrived in Los Angeles this morning and went to the Our Lady Queen of Angels Church.

Her son Saul, who traveled separately, joined her in Los Angeles today.

Arellano slipped out of Adalberto United Methodist Church on the Northwest Side on Thursday night, a day after announcing she would travel to Washington, D.C. for a prayer vigil and fast on the National Mall. Arellano's trip to Los Angeles marks the first time in a year she has ventured outside the Humboldt Park church, her friends and supporters say.

This issue needs to end and it needs to end now. Arrest her and deport her!
ICE HOTLINE: 1-800-973-2867
Report her now!
Tipped by: Mothers Against Illegal Aliens via Robin of The Minuteman Project