I leave you with this graphic and commentary by GuardDog alone, as I can add nothing to it.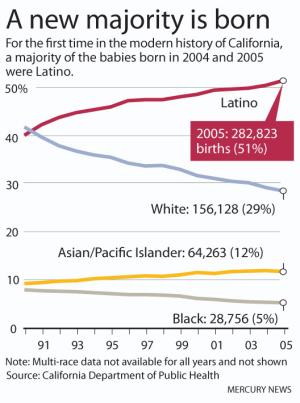 California Dreamin? That is what The Golden State Is becoming, A dream of it's former self. The whole ideal of what California is or more to the point, what it was, is disappearing before our eyes. A culture so unique, so unmistakably American, it was envied around not just around the country but also around the world.

All that is changing now. A death is coming. Massive illegal immigration, liberal legal immigration, and their multiple descendants are warping California into something so foreign, so different that the metamorphosis will result in a California that will be unrecognizable from it's glorious all American past.

Sources: San Jose Mercury News
i think that this website did absolutely nothing for me and it was a complete waist of time to view it most definately waisted the last 45 seconds of my life!!
Posted by: jew$eph on April 9, 2009 10:33 AM