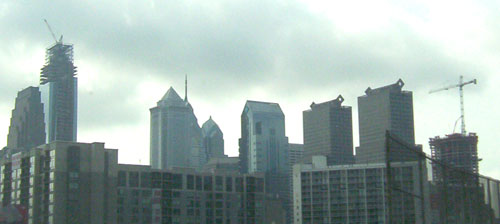 The State Legislators for Legal Immigration held their first ever National Security Begins At Home Rally today, July 27, 2007, in Philadelphia at the National Constitution Center. (The full video of all speeches is at the end of this entry.)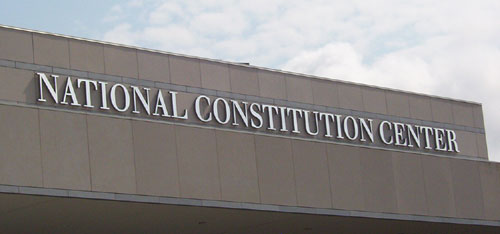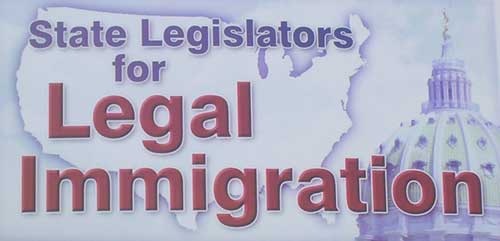 I was in attendance along with Ruth of Illegal Protest to document the event. Surprisingly not one single Philadelphia media outlet was in attendance even though they were invited. They should be ashamed of themselves for their obvious biases. So we're bringing you the news they won't.


Seventeen state legislators from nine states came out today to stand up for legal immigration and against illegal immigration and the impact it is having on states across this country.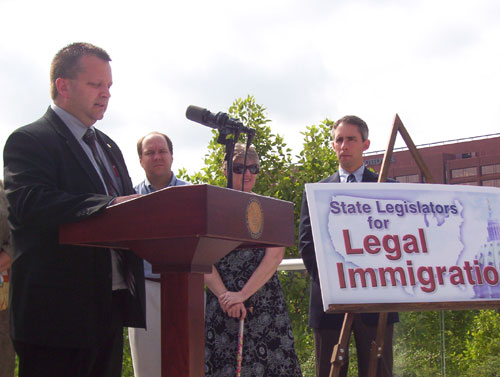 Pennsylvania state representative Daryl Metcalfe, the founder of State Legislators for Legal Immigration, led off with opening comments. He noted that over 60% of the states in this country, 30 states, are represented within the organization. Metcalfe pointed to the side of the National Constitution Center where it is engraved "We the People".
"That's what we're joining here today about, is the demands of 'We the People'" Metcalfe said "Here today in Philadelphia, the birthplace of our nation, ... to call for a political revolution to do what 'We the People' have been demanding and stop the illegal alien invasion that is occurring on our soil."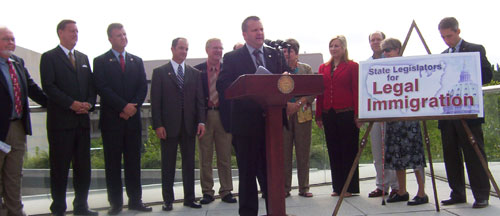 It was hot and humid today as the speakers began talking and I could soon feel sweat rolling down my spine. I felt sorry for these legislators dolled up in their hot suits.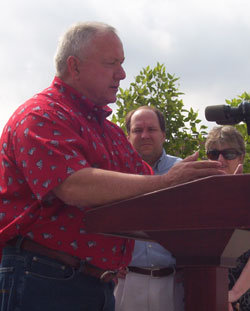 AZ Rep Russell Pearce
The first speaker was
Arizona Representative Russell Pearce
.
"Article 4 Section IV of the US Constitution guarantees every state a representative form of government. We are sovereign states, we have not only a right, but an inherent responsibility to the citizens we serve to protect them from economic damage and for public safety issues. Enough is enough!"
He recounted some successes they've had in Arizona including stopping driver's licenses for illegal aliens and passing laws requiring photo ID's to vote. He also mentioned the four ballot measures that passed in Arizona last year regarding illegal immigration. He said he was grateful for the organization and pointed out the crime, drug trade and impacts illegal aliens are having on jobs.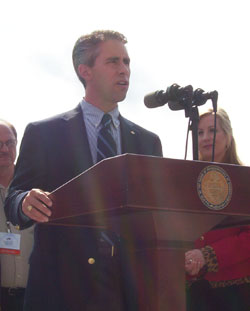 VA Rep Jeff Frederick
Virginia Representative Jeff Frederick
spoke next. He spoke on citizenship and what it means. He related his own family's success in America as legal immigrants and how his mother worked to assimilate into America and learn English and eventually became a US citizen.
He then went on to discuss illegal immigration.
"You have a bunch of people coming here, breaking our laws disrespecting our rules, they don't have an appreciation for what it means to be an American. They don't have an appreciation for what it means to assimilate into our culture." Frederick said. "Illegal immigration is costing taxpayers a fortune."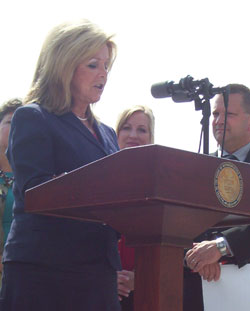 OR Rep Linda Flores
Oregon Representative Linda Flores
spoke next. "I'd like to lay on the table something I see as a myth and that is that the immigration question is simply a federal issue. Indeed the federal government has a responsibility to not only secure our borders, but to enforce the laws that are on the books. However ... the impact is felt at the state level and the local level and there are things that the states can and should be doing in order to address the question".
She went on to point out the voters concerns in Oregon regarding illegal immigration. She also discussed the methamphetamine trafficking trade that is increasing and coming in through California.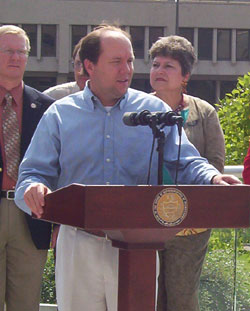 CO Sen Ted Harvey
Colorado State Senator Ted Harvey
talked about the impacts on Colorado of illegal immigration and some of the successes they have achieved in the state to combat it.
"We need to be vigilant at the state level" Harvey said "to make sure that the laws that we pass stay in place and to continue to push that. Because what you've seen over the last month at the federal level is that there is no courage to do the right thing. They are trying to do everything that they can to undermine all of the laws that we have passed in Colorado. Whether it be the driver's license, whether it be voting, whether it be employment situations or whether it be giving outright amnesty, the federal government is trying to do everything to roll back the work that all of these great legislators have done and trying to do it in one single bill."
But with that bill, State Senator Harvey pointed out that the American people stood up to their leaders and demanded real action.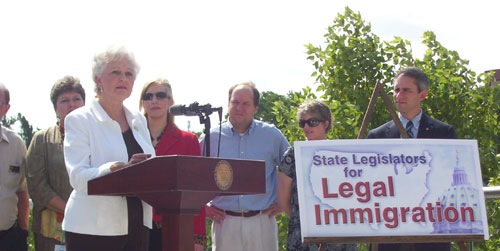 TX Rep Betty Brown (Why is her image larger? Because everything is bigger in Texas of course)

Texas Representative Betty Brown, a new member to the State Legislators for Legal Immigration, pointed out that all of the concerns of the other speakers before here were true for Texas as well, but just magnified by many multiples being a large border state.
Representative Brown stated that they have been doing extensive research in the Texas legislature to put a monetary value on the costs of illegal immigration to the state of Texas. While they have not been able to determine the exact number, they do know that it is in the billions. One of the problems is that the numbers of illegal aliens in Texas are growing too rapidly to actually keep up with when determining the costs.
Recent polling in Texas shows that 90% of Texans believe that photo ID should be required to vote, yet they weren't able to get a law passed in the Texas legislature. It passed in the Texas House, but the Senate wouldn't even give it a hearing.
Representative Brown brings up a good point. This is exactly the kind of tactic that is pissing off many people in this country, not just in the state of Texas. When the people speak they expect action, not their leaders to ignore them because they have a political agenda or a personal belief. These leaders are supposed to serve the people who elected them, not themselves!
Brown also noted that there is evidence of illegal aliens voting in elections in Texas.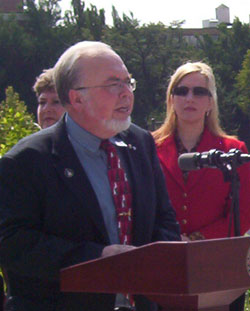 NH Rep Jordan Ulery
New Hampshire Representative Jordan Ulery
spoke on illegal aliens impact on jobs and how they are being used as virtual slaves. He pointed out that New Hampshire wouldn't even come to anyone's mind when you mention illegal immigration, but it is happening there.
Illegal Immigration is "trying for the lowest common denominator instead of striving for the highest common denominator. That is a quality workforce and quality individuals." Ulery said.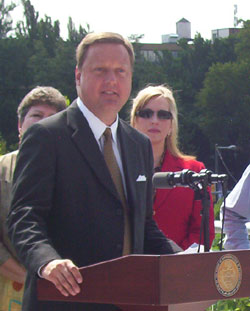 IN Rep Eric Koch
Indiana Representative Eric Koch
opened by recounting his family history and how they came here after World War II. "... the integrity of the citizenship process is most precious to naturalized Americans" Koch said "Illegal immigration is now a problem in our nation's heartland and the federal government has been unwilling to fulfill its constitutional obligation to secure our borders. As a result our constituents are looking to us for help."
Koch stated that over the past few years he has been introducing legislation to combat illegal immigration, but that the Indiana state government has not considered it a priority and now their excuse is that the illegal immigration problem is too large to do anything about.
Koch said the problem is so large now that the border is no longer just in the states like Texas and Arizona, but in cities across states like Indiana.
Joey Vento of Geno's Cheesesteaks, got a round of applause for his stance on English when Daryl Metcalfe mentioned his presence, even though he didn't speak.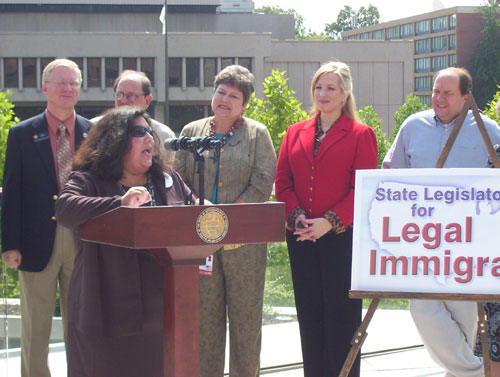 Mariann Davies of You Don't Speak For Me
Mariann Davies of You Don't Speak For Me gave a brief statement and told the legislators that they should be proud of their actions and not to allow those in favor of illegal immigration to make this a racial issue because it isn't one. "Do not let the special interests speak for me or any American in this country." Davies said "The people have spoken and you are listening".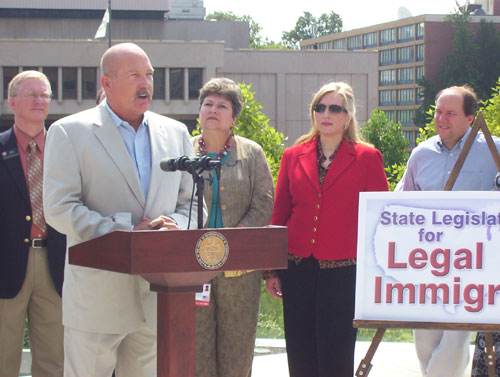 D.A.King of the Dustin Inman Society
D.A. King of the Dustin Inman Society was the closing speaker.
King recounted the story of Benjamin Franklin after the constitution was written and signed.
"A passerby asked Ben Franklin 'Mr. Franklin, what government have you created for us?' He did not reply that we were a nation of immigrants. He did not reply that we are a nation of special interests. His reply was very simple and it involved a very important challenge. Ben Franklin said 'A Republic... if you can keep it.'" King said. "I am very proud to today to stand here with these state legislators who have the courage to do what they can to begin to try to keep our Republic."
King said that with Georgia enacting tough laws against illegal immigration - and employers who hire them - they are seeing illegal aliens leave Georgia and employers are becoming more careful and aware of the laws. "That's comprehensive" King said.
King also said that illegal immigration and illegal employment is "an organized crime". I agree.
That wraps up the speakers at the event.
Other legislators that attended today's event included:
Colorado State Senator Mike Kopp
Colorado State Senator - Scott Renfroe
Colorado State Representative Jim Kerr
Colorado State Representative Kent Lambert
Colorado State Representative Ken Summers
Georgia State Senator Chip Rogers
Indiana State Representative Cindy Noe
New Hampshire State Representative Laurie J. Boyce
Oregon State Representative Gene Whisnant
I'm sure if I forgot anybody, they'll let me know.
Below are more pictures and outtakes from today. Including some goofy ones.
Video of the full event and all speeches is below.