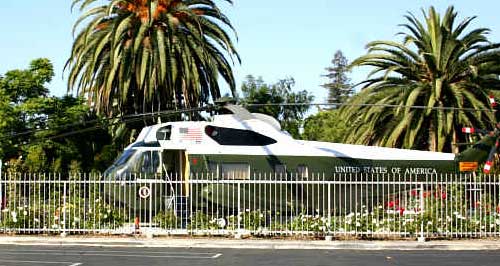 Continuing on our videos of speeches from June 16, 2007 at the Tom Tancredo fundraiser which was held at the Richard Nixon Library in Yorba Linda, CA
Speeches include Eileen Garcia, Jeannie Goodin, Jeff Schwilk, John Clark.
You can find the speeches by Joe Turner, Tony Dolz, Dan Sheehy, Barbara Coe, Frank Jorge and Lupe Moreno, as well as Tom Tancredo's arrival at my earlier entry on the Tom Tancredo fundraiser
Speeches by Ted Hayes, Joe Loya and Terry Anderson can be found at my third entry on the Tom Tancredo fundraiser.
Videos of speeches below (several more to come).
Eileen Garcia speech (Gilchrist's Angels, patriotic women day labor site protest group base out of Laguna Beach)
Jeannie Goodin speech (Long Beach Eagle Forum)
Jeff Schwilk speech (founder San Diego Minutemen)
John Clark (Americans for Immigration Control - AIC)
Thanks to reader Lone Wolf for providing the video.
YOU PEOPLE MAKE ME SICK. YOU BUNCH OF RACIST PIGS ALL OF YOU!! ONE DAY WE WILL ALL BELONG TO ONE CONTRY A COUNTRY WHERE THE HUMAN RACE WILL PROSPER AND HOPEFULLY PEOPLE LIKE YOU WILL BE DEAD BY THAN!! MAY GOD HAVE MERCY ON ALL OF YOU. IF WE GOT DOWN TO IT THIS CONTINET BELONGS TO THE LATINOS WE ARE ONLY THEIR GUEST. YES THE EUROPEANS CAME HERE AND FOUNDED THIS COUNTRY WELL TOO BAD TIME TO SHARE WITH THESE PEOPLE; THESE WAS NOT OUR LAND IN THE FIRST PLACE. ONE MORE THING THESE PEOPLE ARE NOT ALIENS.. THEY ARE IMMIGRANTS.. WE ARE THE ALIENS..
Posted by: Giovanny on November 16, 2007 03:31 PM