Border Patrol Agent Noe Aleman lost his appeal and is headed to Yazoo City Federal Prison June 11, 2007. This is the same prison Border Patrol Agent Ignacio Ramos is being held in.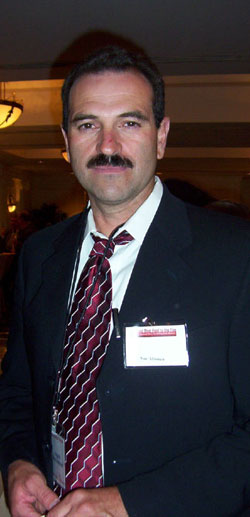 Noe Aleman, 12 Year Border Patrol Veteran
Noe Aleman
was a 12 year veteran of the US Border Patrol and is another victim of
Johnny Sutton
!
The Aleman family stands to lose their house because of a corrupt system that is targeting Border Patrol agents.
Back in April I told you the story of Noe Aleman as I interviewed him in Washington DC at the Hold Their Feet to the Fire event. Noe legally adopted his wife's three nieces and legally brought them to the United States. Due to mismanagement of our immigration system Noe was charged with harboring illegal aliens and the three girls were deported to Mexico.
Urgent help is needed by Noe Aleman's family and this is where you come in. Noe needs your help!
Please head over to the Noe Aleman Official Website and donate to help support his family while he is locked in prison.
At the time of my interview I wrote the following:


I looked this man and his wife directly in their eyes as they told me their story. I could see the sorrow in them. When I asked Noe about his thoughts on prison he did not show weakness, but only a sense of despair for the three girls and what they are going through. I could feel the sense of loss as they spoke about the lovely family they had while the three girls were with them.

Having been in contact with Noe since then my opinion has not changed.
It is rare that I ask people for donations as most of you know and when I do it is for a good cause.
Please help them out, it is the least we can do for a member of law enforcement who has been falsely convicted.
Thank you in advance from the bottom of my heart.