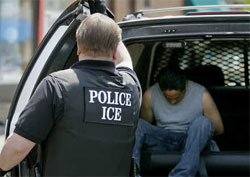 Supporters of Illegal Aliens (and probably some illegal aliens as well) stormed the streets and protested arrests ICE was making in the Minneapolis area over the weekend. Some interesting things in this story stick out though.
First, apparently recent ICE busts have sent illegal aliens running for the hills. This is a good thing, they should not be sitting around in comfort illegally in our country with nothing to fear.
Second, ICE is still a wishy washy organization that keeps coming out and admitting they aren't doing their job. They tell the community, don't worry we're not here to enforce immigration law like the title of our department says, we are only here to arrest wanted criminals. Hello ICE, illegal aliens are wanted criminals and arresting them is your job!
Third, Minneapolis police are a bunch of schmucks who also are bending over and taking it from the supporters of illegal aliens ensuring them that they're only observers, not law enforcement.
Fourth, Illegal Aliens and their supporters have no respect for law enforcement personnel as witnessed by the fact they think they can go up in a federal law enforcement officer's face and scream at them and protest them doing their job.
Fifth, the church continues to stick its nose in politics and then claims that the feds are the ones violating the separation of church and state. Just a note, there is no official "sanctuary" law in this country and the pastor should have been arrested if he was harbouring illegal aliens.
Sixth, the "Hispanic" community - as the paper calls them, but they're really just illegal alien supporters as not all Latinos are in favor of illegal immigration - claim this will harm the reporting of crime to the police department. Well after looking at how they treat law enforcement, I doubt they were reporting crimes anyway.
Seventh, all of these protesters should have been arrested just like any other protesters who form a group without proper authorization. These people once again show they have no respect for the rule of law.

The four sport-utility vehicles bearing federal immigration agents appeared at the corner... shortly before noon Saturday.

Almost immediately, bedlam broke loose.

A crowd of about 40 Hispanics, young and old, sprinted south ... and down nearby alleys. Some screamed, "ICE! ICE!," referring to the agents representing U.S. Immigration and Customs Enforcement, as they ran. At the Guayaquil Restaurant, ... plates of half-eaten quesadillas were left at tables as customers fled.

... officials with ICE and the Minnesota Bureau of Criminal Apprehension took at least five people into custody ... for which they had a warrant.

Tim Counts, a spokesman for ICE, declined to disclose the names of those arrested and the nature of the charges. He said the main goal of the action was to arrest people wanted for criminal offenses, not immigration charges. "It's possible that we may end up arresting people on immigration charges, but that's not the objective," he said.

But more than 100 residents and community activists quickly arrived ... to witness the arrests. Many came armed with camcorders and digital cameras to monitor the treatment of those being arrested.

When one man was escorted from the building in handcuffs, the crowd erupted with cries of "Fuera, ICE! Fuera, ICE!" or "Go away, ICE!" One community activist carrying a sign, "Shame on You," was whisked away in a Minneapolis police squad car for refusing to leave the sidewalk.

"I wanna know what's going to happen to these families, what's going to happen to the kids left behind," yelled Jesus Ramirez, in the face of an ICE agent, who stood in silence. After the Willmar raids, ICE officials maintained they acted properly and within the law.

Saturday's action began about 10:30 a.m., when five or six vehicles appeared in the parking lot of St. Paul's Lutheran Church ... while another six appeared outside Powderhorn Park Baptist Church ... according to nearby residents.

The Rev. Patrick Cabello Hansel, pastor at St. Paul's, said he asked the agents to leave, but they refused. "The church is supposed to be a sanctuary from raids like this," he said. "This is a violation of the separation of church and state."

Another concern among community activists is that Saturday's action involved both ICE agents and Minneapolis police officers working in tandem. The appearance of the two together will make Hispanics fearful of police and less willing to report crimes, said Alondra Espejel, communications organizer with the Minnesota Immigrant Freedom Network, an immigrant rights group.

"The relationship between the Latino community and the police will never be the same," Espejel said. "Not after what happened today."

Minneapolis police spokeswoman Amelia Huffman said police officers were on hand to help secure the area ... but they were not involved in the arrests. Huffman said police officials were in contact with Hispanic community leaders.

"We want to assure everyone that the Minneapolis Police Department is not in the business of enforcing immigration policy, and that was not what we were working on today," she said.

This "protest" mob does not sound like something that spontaneously occurred, but sounds like an action that was planned ahead by these groups. They probably organized it all in the churches ahead of time in order to try to paint law enforcement in a bad light.
These are ridiculous actions that everyday Americans would never find themselves doing. These are the actions of those who haven't assimilated into the American culture and put their race above even law enforcement.