| | |
| --- | --- |
| By / May 4, 2007 01:33 AM | |
Below is a video interview with Melanie Kortlang done by Chelene of Save Our State at the Hold Their Feet To The Fire event in Washington DC in April, 2007.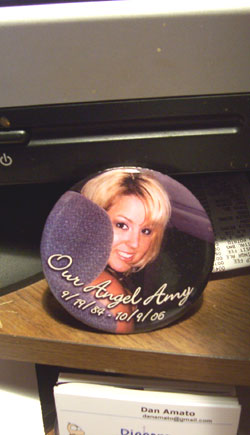 Amy reminds me everyday of her story
It was such an emotional moment as I stood there watching this interview and I couldn't help but crying.
Amy Kortlang
was killed by a drunk illegal alien who collided with two cars and then fled on foot after running head on into Amy's car leaving her to die on October, 9, 2006. This woman has lost so much all because leaders in this country didn't do their job.
Watching this video again just overwhelmed me with emotion and flooded my eyes with tears. I'm not sure how Chelene managed to keep her composure (as you can tell she lost it at certain points). It's just a tragedy that shouldn't have happened. The illegal alien, Rafael Ramirez Perez, was sentenced to 21 years in prison, but that does little to make up for this precious life that was needlessly lost.
Please keep Amy and the Kortlang family in your thoughts.
Video interview of Melanie Kortlang below.

Part 1:
Part 2:
Be sure to also visit Amy Kortlang's Story.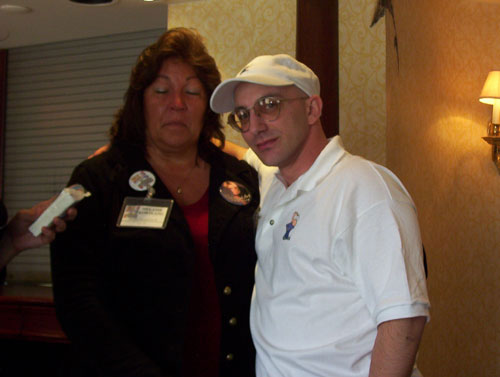 Melanie Kortlang and Myself After The Interview - I Was Near Tears
If this video and story makes you sad and angry, get involved! Call your Congressional representatives in Washington and demand action now!
You can start by heading over to NumbersUSA where you will find further information on contacting your representatives in DC.

This entry is in the following archive(s):
Next and Previous Entries:
Posted by Digger on May 4, 2007 01:33 AM (Permalink)

I too have lost at the hands of an illegal. On 12/28/06 my 4 yr old grandson, Joshua Angel Morrow and close family friend, Ronald Bishop, 42, were struck and killed by an illegal from Mexico, in Tampa,Fl.. MY heart and prayers go out to her family. I can totally understand the grief, sadness,and anger her family deals with on a daily basis. God Bless her mother and family.
Mrs.Brenda Andujar

.
Posted by: brenda andujar on May 9, 2007 12:13 AM
I'm sorry to hear that. Time and time again I hear these horrible stories (pretty much daily).
Nobody seems to want to do anything except those who have actually been victimized directly by illegal immigration.
When is this country going to wake up?
I actually had someone today comment over here (scroll down to the comments) that my coverage of Melanie Kortlang and Amy was hyperbolic and pretty much meaningless.
Here's a quote from his comments (and feel free to head over there and give him a piece of your mind)


Then there's the anti-immigrant diatribe. Yes, there are a lot of good reasons for cracking down on illegal immigration. But concentrating on one trial of one illegal immigrant who killed one American citizen is hyperbolic. Yes, there are lots of illegal immigrants who do evil things. There are also lots of natives who kill people through drunk driving. And there are also lots of illegal immigrants who eventually become model citizens. It's a broad bell curve, and this post concentrates all its attentions on the far end of that bell curve.

He totally ignores the fact that if we enforced immigration laws then it wouldn't have happened. He also insinuates that there are many illegal aliens who become model "citizens".
Furious is not a good enough word to describe my reaction to his comment and I opened both barrels on him (I think the comment got held for moderation).

Posted by: Digger on May 9, 2007 12:51 AM
One illegal killed only one American?? He needs to get his head on straight. 48,000 and counting. Thats the number of Americans killed by illegals since 9/11 I'll say it once again, does anyone understand the word ILLEGAL!!!
Posted by: brenda andujar on August 3, 2007 03:25 AM
Thousands of Americans are killed daily by illegals but if these people turn out to be great citizen then why ever be a illegal. DO IT THE RIGHT WAY.
This is for Joshua Angel Morrow and Ronnie Bishop who were killed by one of the illegals that made the wrong choice by not following the law to become a citizen.
Kristi Middleburg, Fla.
Posted by: Kristi on January 13, 2008 02:51 AM