Minuteman National Rally Spokesman Raymond Herrera appeared on Spanish language Channel 22 TV News Saturday night and declared that the Minutemen and ICE have been in talks and that both ICE and the Border Patrol will be at the rallies planned by illegal aliens throughout the country - and in particular LA - on May 1, 2007.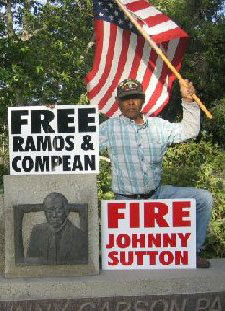 Herrera At Johnny Carson Park, Burbank
I was notified by a reader that the following occurred on the show.
Herrera was interviewed opposite a Los Angeles organizer of the May 1 Protest, a grand motherly- looking woman, Gloria Saucedo, representing Hermandad Mexicana

An Annotated Recap:

The segment opened with Newscaster Jacqueline Llamas asking Herrera: Will the Minutemen be present and peaceful at the May 1 demonstration?

Minuteman Herrera: The Minutemen are always peaceful - they are just moms and dads. People of peace, people of god.


Jaqueline Llamas

Newscaster Llamas: Asked Hermandad Mexicana Organizer Gloria Saucedo to talk about the Los Angeles May 1 Protest

Hermandad Mexicana: Gloria Saucedo - very grand motherly - invited everyone to attend the downtown L.A. May 1 event. She said it will be the community coming together. To send a loud voice in support of the undocumented. She cautioned students to attend after school, then stated the time and location of the protest. She was very kindly in her presentation. Sweet.

Minuteman Herrera: When Saucedo finished, Herrera looked directly into the camera and said: ICE has met with the Minutemen. ICE and the Border Patrol will be stationed among the crowd at the L.A. May 1 protest. Anyone without papers will be subject to apprehension. They will also be photographing the crowd and their license plates. All undocumenteds would be well advised to stay home from this May 1 protest; they risk apprehension should they attend.

Hermandad Mexicana: Gloria Saucedo, suddenly, was not so kindly in her approach, in fact, she started yelling: THOSE ARE BIG LIES! HE IS A BIG FAT LIAR! Do not be afraid - have no fear - there will be no Agents there. Her face was very angry as she yelled into the camera.

Minuteman Herrera: No I am not lying - ICE and the Border Patrol will be there. YOU are lying - he said to Saucedo - you are lying to the people. This protest should take place in Mexico - you should take your flags and your noise and go to Mexico to hold your protest. Protest Mexico! Revolution in Mexico!

The interview ended with the newscaster saying good night - Herrera also said good night - BUT Gloria Saucedo was still yelling: LIES - LIES.

Be sure to visit minutemanproject.com
I can understand that you want to control the borders for immigration, but to treat mexiczns the way the whites once treated you is pretty stupid! You need to go back and check out the REAL UNITED STATES HISTORY, the one that tells you how black slaves were taken and left in mexico BEFORE the united states,and how the indians and MEXICANS helped them escape. Did you not know that mexicans have african bloodline? or did you all not bother to see that their skin is brown. If the unites states didnt illegally take texas, arizona and california from the mexicans, this would be one country and not 2 divided by one border. The only people who are really illegal are whites, but yall are still scared of them, still being a slave to them. Blacks dont want the jobs mexians do, most want a hand out. By the way i am an african american woman. Do yourself a favor, check out the history and if i am wrong, then tell me. Otherwise, you're on the wrong side. Mexicans are spaniards,african and Indian. Check out Bobby Vaughns web page and mexican history to prove that I am right! Or are you afraid? Just like a black man, do what the whites tell you and be afraid.
The stupid minutemen set us back 300 years!
Posted by: Lisa Brown on May 7, 2007 01:58 PM
IF CHURCHES WANT TO BE SANCTUARIES FOR ILLEGAL IMMIGRANTS, IT MEANS THAT THEY WANT TO BE INVOLVED IN POLITICS,AND IF THAT IS THE CASE,THEN ALL THEIR TAX EXEMPT PREROGATIVES SHOULD BE ABOLISHED. MAKE THEM PAY TAXES LIKE EVERY CITIZEN IN THE UNITED STATES.
Posted by: FELIX SURIA on May 14, 2007 03:44 PM