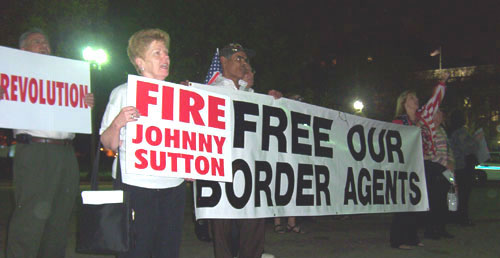 On Monday night April 23, 2007 about 50 people joined Monica Ramos, Ignacio Ramos Sr. and other members of the family to assemble outside of the White House and demand that George Bush free Border Patrol Agents Ignacio Ramos and Jose Compean. The vigil was organized by Raymond Herrera, spokesman for Gilchrist's Minuteman Project.
| | |
| --- | --- |
| Monica Ramos | Me and Raymond Herrera |
To chants of "President Bush! Free Our Border Agents!" the group screamed for their release. I was quite angered and driven. I screamed at the top of my lungs.


Monica Ramos and others call for the freedom of her husband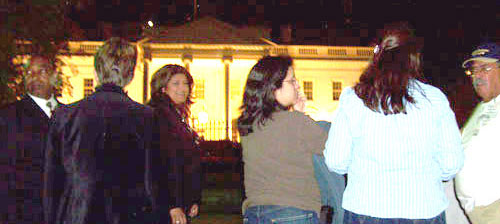 Monica Ramos, center, Ignacio Ramos Sr., far right


Monica is simple a pillar of strength. She has three boys and limited finances. If you could find it in your heart please go now and donate at AgentRamos.com.
I lost track of time, but it seemed like an hour to an hour and a half. After the White House the group then took to the streets of Washington DC and marched from the White House to the Department of Justice.
All along the way we called for their freedom. My military instincts took over at that point and I led the cadence for the next 30 minutes or so. The only thing missing was a guide-on. I paid for this with my voice for pretty much the entire week. I gave my voice for Ramos and Compean, literally.
[More Pictures and the Video Below]

Video provided by
Stop The Invasion
, edited by
Freedom Folks
.


Crowds gather at the Department of Justice
After we arrived at the Department of Justice the irony was thick reading the engraving on its wall "The Place of Justice is a Hallowed Place".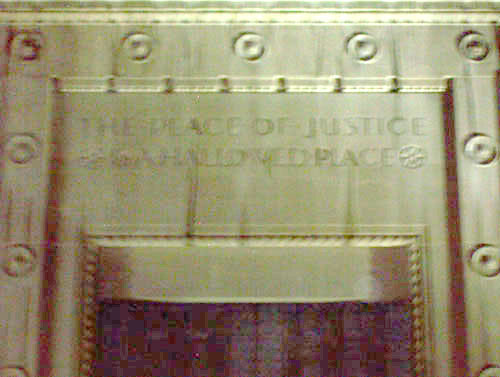 "The Place Of Justice Is A Hallowed Place"
TJ Bonner was the lead speaker and covered the travesty of justice imposed on these two border agents. Joe Loya, Monica Ramos and Ignacio Ramos Sr. all spoke thanking the group for their support. Ted Hayes also spoke giving a speech for the ages on patriots.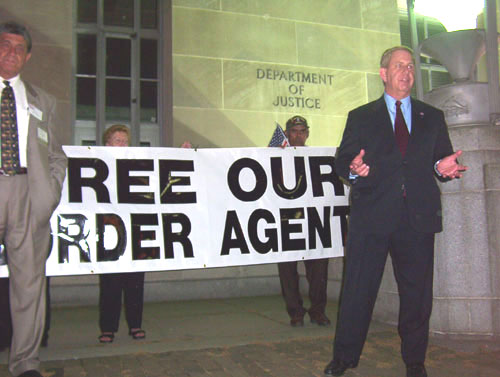 Joe Loya, left, TJ Bonner, right, speak of the injustice against Ramos, Compean and Gilmer Hernandez
The question of the night really was "If this can happen to them, how long before it happens to you?"

Don't forget to donate at AgentRamos.com