Yesterday MJ of the Freedom Folks went out with the citizen lobbyists and hit some congressional representatives. Along her travels she found a very familiar name in the guest book for Congressman Jose Serrano who represents the 16th district in New York, the South Bronx.
As you can see in the image below both Pueblo Sin Fronteras and Familia Latina Unita came all the way from Chicago, IL to visit Congressman Serrano about a month ago. What could they possibly be discussing?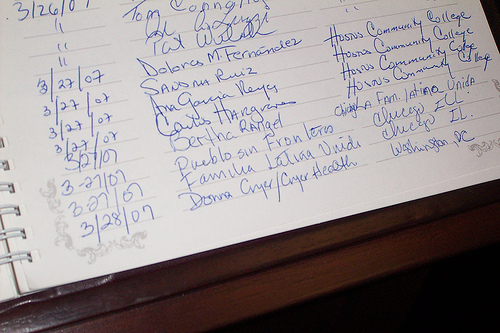 Could they have been talking about Elvira Arellano, the illegal alien woman hiding out in a church in Chicago since last August? Let's investigate this Representative Serrano and see.
From Congressman Serrano's page at Immigration Stance


Representative Jose Serrano has worked against allowing state and local law enforcement helping to reduce illegal immigration ... This Representative's motto is "if you've made it in illegally you're safe".

...

Representative Jose Serrano has voted in favor of amnesty for illegal aliens.

Representative Jose Serrano has voted in favor of giving illegal aliens further rewards and other incentives to come such as in-state tuition, educational benefits, welfare and health care services.

It concludes that his record is horrible.
Just what these "Hispanic rights" groups need, an amnesty whore of a congressman who will back an initiative to grant Elvira Arellano amnesty. Serrano seems to want to give away quite a bit to illegal aliens. I wonder if the tax payers who elected him want to give all their money to illegal aliens.
MJ asks if these group were given a better welcome than the citizen lobbyists