Harvard economist, Professor George Borjas, took the stand in day 6 of the trial against Hazleton, Pennsylvania's Illegal Immigration Relief Act. In his testimony he stated that based upon his national research on the issue of illegal immigration, wages in the city would rise if the ordinance is enacted and enforced. Borgas, an immigrant from Cuba, stated that his research showed drops in wages by as much as 8% with just an increase of 10% in immigration.
Illegal Aliens Decrease Wages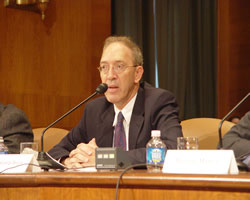 George Borjas, Harvard Economist
Oh the outrage from the ACLU and the plaintiffs as they tried to get Borjas barred from testifying claiming his research was not specifically focused on Hazleton. That's right, we can't have any negative things about illegal immigration be presented in court. US District Judge James Munley overrode the plaintiffs objection and allowed Borjas to testify.
The Illegal Immigration Relief Act can pull the licenses of business that hire illegal aliens and fine landlords who rent to them. The case Lozano v. City of Hazleton began its second week in Scranton at the William J. Nealon Federal Building. The trial is expected to last through Friday.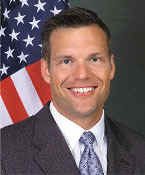 Kris Kobach, Hazleton
Hazleton Attorney
Kris Kobach
, questioned Borjas on whether it was typical for economists to use national data to determine local impacts, to which Borjas said yes they do.
Borjas pointed to two examples of companies that had faced immigration raids and their subsequent increase in wages. In Stillmore, Georgia the Crider Inc meatpacking plant saw substantial increases in wages by about 14%, as did the Swift Inc meatpacking plants after raids in 6 states.
Borjas also testified that from 1980 to 2000 immigration had caused an 8 percent decrease in wages for legal workers without a high school diploma and that illegal immigrants have an even larger impact because employers can easily exploit them. This has a devastating impact for the low wage workers of America.
Plaintiff Hypocrisy
In a show of the complete hypocrisy of the ACLU's complaint, that Borjas research was based off of national investigations, plaintiff attorney Ilan Rosenberg then brought up a study in Italy, that showed that immigration caused an increase in wages. So after objecting to Borjas on national research they then introduce international studies. Ridiculous!
Borjas said that the Italy study showed a slight increase in native born wages, but the legal immigrant population saw a big dip. Italy, of course, is not the melting pot that America is and the comparison is really less apropos than comparing national studies to the local level in the same country. I guess the plaintiffs are grabbing at the only research they could find in the whole world that showed an actual increase in wages.
Kobach asked Borjas if he was surprised that the US Chamber of Commerce came down on the side of the plaintiffs, and Borjas said he wasn't because the Chamber represents businesses who would benefit from this decrease in wages.
"My conclusion is an influx of illegal immigrants will have an effect of decreasing the wage of competing workers. Their wages would have been better had this never taken place," Borjas said.
Illegal Isn't Illegal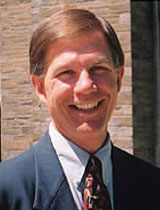 Stephen Yale-Loehr, Cornell
Plaintiffs attorney
Omar Jadwat
, of the Puerto Rican Legal Defense and Education Fund and the ACLU Immigrants' Rights Project, then called immigration lawyer and Cornell University professor
Stephen Yale-Loehr
to the stand. In 90 minutes of testimony Yale-Loehr tried to justify that just saying "illegal is illegal" is too simplistic.
He went over the different forms of immigration including student, tourist and temporary guest worker and that while an immigrant may be illegal one day he may apply and be granted legality the next. Yale-Loehr seems to conclude that since federal agents aren't deporting these illegal aliens, while they wait for legal status, that they simply aren't illegal.
In my opinion this testimony is more on the ridiculous nature and lack of action by the federal government than on the constitutionality of this ordinance. It went on and on about poor illegal aliens who may be her caring for a relative. How illegal aliens often remain in the country for months and years awaiting a deportation hearing after being released back into the public and even then being allowed to remain here while they appeal their case.
I really don't see the relevance to this case, nor how this makes them any less illegal than they already were. There's no complexity to it at all. If they are in the country illegally then they need to leave. trying to play on semantics of the term and make there be "varying shades of grey of illegality" is ridiculous. They either broke the law or not.
Enough of my rant though.
Outside the building after court ACLU attorney for the plaintiffs, Vic Walczak, was quoted as saying "It is to simplistic, it is wrong to say 'illegal is illegal'".
Hazleton Takes Witness To Task
Kris Kobach laid the smack down on Stephen Yale-Loehr with several questions.
He questioned Yale-Loehr, who is a co-editor on a 20 volume treatise on immigration law, about the plaintiff's claim that the constitution pre-empts cities, such as Hazleton, or states from approving immigration law. Kobach then pointed out that in the whole of the 20 volumes there were only 3 sentences about pre-emption.
Then Kobach hit it out of the park by stating that immigration law requires immigrants to carry identification and that certain immigrants need to report changes of address within 10 days of moving. With that clearly stated in immigration law then why did Yale-Loehr testify against requiring immigrants to show documents in Hazleton?
Yale-Loehr's answer "They may not have them,"
An easy enough ridiculous statement to end on.
My Thoughts On Day 6
All in all day 6 once again didn't really focus on the question at hand, whether the Illegal Immigration Relief Act is unconstitutional.
Hazleton scored a little by pointing out that there is no constitutional statement against cities and towns acting preemptively and the plaintiffs gained a little ground by pointing out that there is a long wait to deport someone. Why is that a point? Well it all boils down to the right to due process. In the end though all it really points out is that on the federal end of things the wait for deporting illegal aliens is too long. That really has nothing to do though with whether Hazleton pointed out the illegal alien or whether they were busted in a federal sting by Immigration and Customs Enforcement.
Plaintiffs continue on their "bleed 'em dry" tactic by making this trial last as long as possible with irrelevant testimony in order to suck money out of the Hazleton legal defense fund. I believe that has been their tactic all along and the only reason this case is lasting two weeks instead of two days. The judge really should cut in and start asking about what the point of the plaintiff's questioning is, for a lot of the time there seems to be none.
Be sure to check out the recap of the other days of coverage in my Hazleton Archive
Hazleton needs funding. You can donate to their legal defense fund at Small Town Defenders. Their case could set the stage for reduced illegal immigration throughout this country, so donate today!