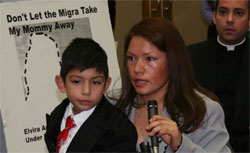 This is exactly what you get when you do not enforce the law. You remember the story of
Elvira Arellano
, the illegal alien who became a fugitive from justice when she decided that instead of showing up for her deportation hearing she ran into a church and then sent her "anchor baby" son around the country and world in an attempt to get amnesty?
Yeah, the same Elvira Arellano who the Department of Homeland Security (DHS) and Immigration and Customs Enforcement (ICE) refused to go in and arrest her.
Well seeing the ineffectiveness of our government agencies and their refusal to enforce the law has now emboldened more churches to declare that they will provide "sanctuary" for illegal aliens facing deportation.

Churches in a handful of U.S. cities are preparing to launch a "sanctuary" movement to help illegal immigrants avoid deportation and unite faith-based groups in a push for immigration reform.

The "New Sanctuary Movement" is based on the sanctuary movement of the 1980s... said the Rev. Alexia Salvatierra, executive director of Clergy and Laity United for Economic Justice, an interfaith association spearheading the plans.

"At the time we were able to make major changes and awaken the moral imagination of the community," said Salvatierra. "Immigration today is still a human rights issue."

...

The movement will enable congregations to provide "hospitality and protection" to some immigrant families whose legal cases "clearly reveal the contradictions and moral injustice of our current immigration system," according to the New Sanctuary Movement's Web site.

The site lists Los Angeles, Chicago and New York as central cities.

...

The group has been inspired by Elvira Arellano...

In order to end this now ICE needs to enter the church that Elvira Arellano is hiding out in and arrest her and the owner of the church immediately. In their press meeting afterwards they need to emphatically state that this will not be tolerated in the future and that those who are aiding and abetting illegal aliens will be arrested and prosecuted to the fullest extent of the law.
These people are thumbing their noses directly in the face of the United States government and the American people and it needs to stop now!
Hi Digger, Keep up the great work - I dont know how you do it. Pertaining to Sanctuary cities and churches I thought it was a violation of Immigration and Nationality Act Section 8 USC 1324(a)(1)(A)(iv)(b)(iii)
IT IS ILLEGAL FOR NONPROFIT OR RELIGIOUS ORGANIZATIONS to knowingly assist an employer to violate employment sanctions, REGARDLESS OF CLAIMS THAT THEIR CONVICTIONS REQUIRE THEM TO ASSIST ALIENS. Harboring or aiding illegal aliens is not protected by the First Amendment.
It is a felony to establish a commercial enterprise for the purpose of evading any provision of federal immigration law. Violators may be fined or imprisoned for up to five years.
Encouraging and Harboring Illegal Aliens
It is a violation of law for any person to conceal, harbor, or shield from detection in any place, including any building or means of transportation, any alien who is in the United States in violation of law. HARBORING MEANS ANY CONDUCT THAT TENDS TO SUBSTANTIALLY FACILITATE AN ALIEN TO REMAIN IN THE U.S. ILLEGALLY. The sheltering need not be clandestine, and harboring covers aliens arrested outdoors, as well as in a building. This provision includes harboring an alien who entered the U.S. legally but has since lost his legal status.

Posted by: ken mallen on March 17, 2007 01:27 PM
Hi Ken. Yes it is totally illegal and just shows that the government we are paying for isn't doing their job.
They know where she is, but they don't want to go along with the 80-90% of Americans who would celebrate if she was arrested and deported.
Our system is a joke and it is obvious by stories like this that if a massive "guest worker program" is enacted that all of the enforcement provisions in it will be ignored - as they are now - and our problem will only get worse on a compounded scale.
Thanks for the compliments.

Posted by: Digger on March 18, 2007 03:03 AM
And for your information her removal/arrest took long because ICE continued to extend her deportation per her attorney's request and per request of Congressmen
How about you get informed. She skipped her deportation hearing and was listed as a fugitive illegal alien. There was no extension by ICE or Congressman for her year hiding out, she simply refused to obey the law and the church was complicit in harboring her against the law.
You pro-illegal people will say anything to justify breaking the law. It is sickening.

Posted by: Digger on April 16, 2009 01:34 PM