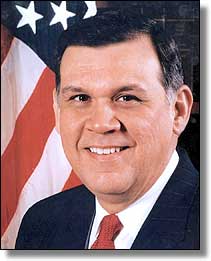 The Republican party continues to commit suicide as it decided today to elect open borders, pro-amnesty Senator
Mel Martinez
to head up the Republican National Committee. In order to be able to avoid any accusations they also did it via secret ballot. Martinez was hand picked by President Bush and fits right in with his amnesty and North American Union plans.
That's all fine and dandy for those two, but for the rest of the party out there that is nearly 80% against amnesty and illegal immigration it is just one more slap in the face and statement that they don't give a shit about their supporters.
What a freakin' disgrace.
Here's what some others are saying:
AllahPundit at Hot Air


That leaves us with a pro-amnesty president, a pro-amnesty party chairman, and a likely pro-amnesty presidential nominee in '08 in the figure of St. John of Tucson. Why, it's enough to make a man consider voting for Tanc [Tom Tancredo].





"To be the Party of the future means that we also have to be a party that opens the door wide-open so that all Americans feel welcome." - Mel Martinez



I think we all know what door he plans to throw open!


Back in 2004, I whole-heartedly supported Mel Martinez for US Senate. I donated to his campaign, and urged my readers to do likewise. At the time, I had no idea that Martinez would become the co-author of the fateful Hagel-Martinez "compromise" amnesty, which would destroy the United States as we know it.

Polipundit also was tipped off to Mel Martinez's campaign 2004 website. The page on immigration had "mysteriously" been removed while all the other pages remained. This reader managed to find a Google cache of the page here and which Polipundit has copied as a PDF file you can access from his webpage here. I have gone through the effort of doing a screencap below of these "promises" this lying sack of shit has made.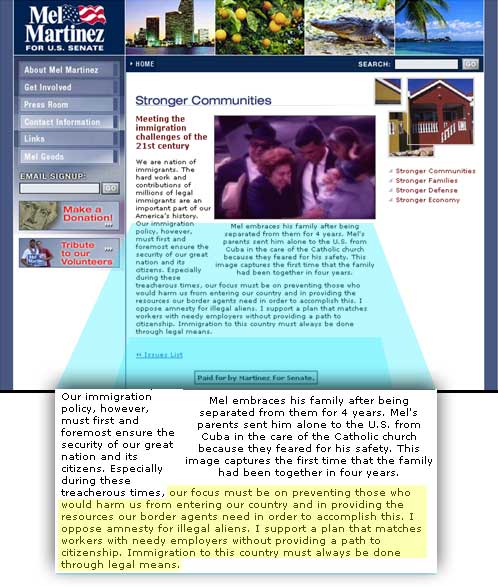 If you can't read it here's what it says:
our focus must be on preventing those who would harm us from entering our country and in providing the resources our border agents need in order to accomplish this. I oppose amnesty for illegal aliens. I support a plan that matches workers with needy employers without providing a path to citizenship. Immigration to this country must always be done through legal means.
This is the same guy who put forth the Hagel-Martinez amnesty bill. Did I mention he is a lying sack of shit?




"I was born in Cuba. As a boy, I watched as my country, my home, turned into a living hell under totalitarian communism. My childhood went from one of carefree happiness to one where I watched freedom and the rule of law erode and disappear." - Mel Martinez



Now that statement caught my eye. He watched the "rule of law erode and disappear" from his nation and he saw the consequences. Consequences so severe that they would cause his parents to send him to America for his own safety. He went on to talk about his life:

...

it would be political suicide for this Republican Party to endorse an amnesty program that would cause the American people to endure the same harsh realities young Mel Martinez watched in Cuba as he watched the "rule of law erode and disappear".

It has already disappeared. A million illegal aliens enter the country every year and we don't do a thing to stop them. How many millions of laws need to be broken and ignored before we consider the "rule of law erode and disappear" to be true?
Go have a look at traitorous Mel Martinez's Immigration Record.
There is no longer a Republican party, it is now a Republican dictatorship that cares little about Conservatism or the values and beliefs of those who have put them in a position of power. It's time for all you Republicans out there to write this party off and stick it to these traitorous bastards once and for all.
Pick a good candidate for 2008, not some popular one the Republicans are putting forth that support amnesty like Giuliani or McCain. Pick someone who will fix this problem that will destroy the United States over the next decade or two.
As America works and earns their daily earnings, leaders make backdoor meetings with foreign countries. Meetings that open America's borders with corrupt foreign governments. Some long-standing politicians in our government feel free to slap the controls on Americans, and not their foreign investments. These politicians aren't unknown. They want the Mara Salvaturcha 13 gang to continue ruling parts of America. To fight with the Minutemen, and the American civilians who want enforcement of Illegal Immigration Laws. These leaders who want any legality of the illegals here in the U.S., are hiding their agendas from American citizens. They can't find any of the 30 million plus illegals to do agricultural work? No, because those 30 million plus who are here illegally, are doing the jobs that put millions of Americans out of work! These illegals make much more than they would in the agricultural business, so why would they go back to that? They may come here initially to work the fields, but can see the opportunity to grab that higher paying American job that is offered readily by businesses who want that cheaper labor cost. We won't have sovereignty until the Waste Management, Landscaping, Factory, Warehouse, Lumper Services, Manufacturing, Food Preparation, Vending, Catering; and practically every field of the business world operating in America must obey our hiring laws. We must have a Congress, and a Senate with men like Congressman Thomas G. Tancredo to uphold their sworn duty to defend this nation from enemies within, and outside our borders. To stand against those backdoor deals to build the NAFTA Superhighways, or opening our borders to other un-American deals. We the people should have all the say. These self-interest political schemers should be removed as a threat against the people! All citizens should demand that this country be defended from the internal plots against us, including ANY political!
Posted by: Sgt. Garrison on January 21, 2007 03:03 PM