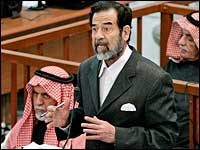 It has just been announced on CNN that
Saddam Hussein
has been sentenced to
death by hanging
for crimes against humanity.
My feelings on the Saddam Hussein trial is that it's all a big joke. When it comes to people like Hussein or Milosevic there pretty much needs to be a 10 day rule. They go before an accelerated court system allowing the victims to have a chance to have their say, then the dictator is taken out back and executed with two bullets to the back of the head or hanging, the victims choice.
It's such a waste of time, money, gives rebels and terrorists a rallying cry and is a real potential threat of escape or somehow getting off the hook. As long as someone is still alive there is always the chance that they could get out of whatever prison they are being held in.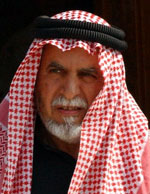 Awad Hamad al-Bandar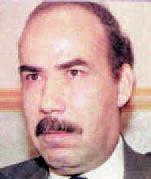 Barzan Ibrahim al-Tikriti
The other travesty is all the death that this trial has brought about. Numerous lawyers in the trial along with family members of judges, have been killed or kidnapped. So even more people have suffered at the hands of this monster beyond the atrocities he committed as the leader of Iraq. It's just something that should not happen.
The ridiculous thing is that Saddam gets an automatic appeal. His sentence should be immediately carried out.
There is one additional silver lining to all of this beyond him receiving the death sentence, Saddam Hussein has said that he prefered death by firing squad since hangings are for "common criminals". So at least he won't get his wish in that regard.
Ramsey Clark the traitorous former American Attorney General who was defending Saddam Hussein, was thrown out of the courtroom prior to sentencing for being an ass.
Awad Hamad al-Bandar, a former judge in the Saddam Hussein regime, and Barzan Ibrahim al-Tikriti, Saddam Hussein's half-brother and former leader of the Iraqi secret service Mukhabarat, were also sentenced to death by hanging.