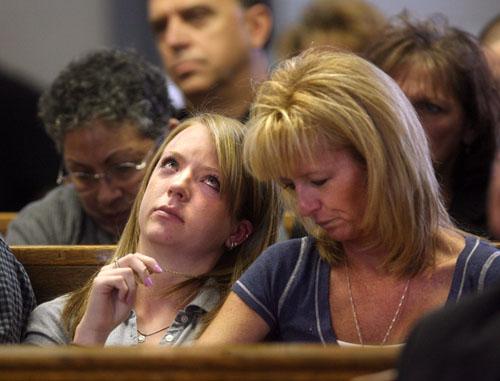 You remember that dirtbag Raul Gomez-Garcia who shot and killed police detective Donald Young in May of 2005? Well he was sentenced to 80 years in prison and will now spend the rest of his days as a paid guest of the American people, just like he was doing prior to shooting detective Young in the back after ambushing him and his partner Jack Bishop.
Gomez-Garcia fled to Mexico and was extradited to the US with a promise not to seek the death penalty. Colorado has this stupid law that a criminal can refuse to appear at his own sentencing thus not having to face the victims of their actions. That law needs to be changed. If you are going to screw someones life up you should have to listen to those you have affected.
He shouldn't receive that right anyway, he's not a legal resident of Colorado.
When he appeared before the judge prior to sentencing and asked if he wanted to attend the hearing, a "13" was shaved into the back of his head. I wonder what that means?

Raul Gomez-Garcia, convicted of killing police Detective Donald Young and wounding his partner, Jack Bishop, was sentenced Wednesday to the maximum of 80 years in prison after Young's widow and the judge labeled the killer a "coward."

Gomez-Garcia had refused to attend his sentencing, infuriating Bishop and widow Kelly Young.

"He was a coward then; he is a coward now," Young said as she stood in tears and told of the pain Gomez-Garcia inflicted on her and her two young daughters, Kelsey and Kourtney.

"I'm shocked that Gomez-Garcia is not here," said Denver District Judge Larry Naves. "He approached the officers from the back in a cowardly fashion, and the fact he can't face the witnesses (today) is consistent with that kind of cowardly act."

...

"Donnie was a brave police officer. He (Gomez-Garcia) took away from me and my girls ... the most important person in our lives. I lost my soulmate and the person I intended to spend the rest of my life with," Young said.

Her girls, she said, lost their buddy, soccer partner and playmate.

We can only hope that this guy gets justice somehow in prison, preferably at the and of a shank.
Tipped by: Drink This... who says:


If I was the judge, his ass would be front and center. In this case, I'd even record it and have it piped into this dude's cell each night to lull him to sleep.

Rot in hell, mofo.

Hear, hear!