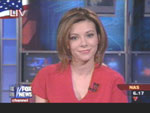 Recently fans of
Kiran Chetry
did an interview with her and got her to answer all the questions we wanted to know. From how she's handling the new baby to behind the scenes at Fox News. Long time readers know that Kiran Chetry is a favorite here at Diggers Realm. Below is
an interview with Kiran Chetry
.
Is it challenging to go from a serious news story and then making a segues to a much lighter topic?

On Fox and Friends we have to transition all the time from serious to light news. I think it works for us because our viewers know us and know that we truly care about and are interested in all of the stories we cover. Just like having a dinner conversation with family. Topics can go from light-hearted to heavy and back again through the course of the meal.
Have you ever had an on air Freudian slip?

None that would count as a major oops. but during our banter we definitely get our "signals crossed" and that leads to some funny moments. My fav was when Brian asked Fabio how often do you shave your chest hair. Only it didn't sound like "chest hair" when he said it.
Do you pick out the clothes you wear on air?

We have a wonderful wardrobe department that helps us put together outfits. We do get to pick out certain styles and colors. But they have the expertise so we really try to listen to them.
What do you think you would be doing if you weren't in the news business?

I've been in a newsroom in some way since I was 19 years old and I just love it. But if I wasn't doing news, I would secretly LOVE to go to chef's school and either own a restaurant or do a fun cooking show. I would also love to be a fitness guru or vet. (But those are just daydreams!)
Have you ever had any embarrassing on-air moments?

Too many to count! You know how it is on Fox and Friends. We have so many funny, unpredictable moments. Some of my favorites: When we had 2 chimpanzees on set and they went crazy and started banging on the laptops and one of them wouldn't let go of the Judge's hands! Another time we had a dog on who let's just say got a little too excited and we had to quickly change camera shots.
It was also terribly embarrassing to my ego to lose the rollerblading competition to Julian. Ha! However, I was newly pregnant at the time, so I had to take it easy. (plus some say he cheated by using the ref as a launcher to swing back around). But fair is fair and he hit the finish line first!
How much of Fox & Friends is scripted and how much of it is ad-libbed?

The only things scripted are the news breaks, teases and guest titles. Everything else we ad-lib. The show is a lot more challenging than it seems, since there is so much information we must retain each day. We also have to be fluent in all aspects of world events since we discuss them off the cuff.
What do you do at Fox when you're not hosting?

I spend 90 percent of my time with my new baby girl Maya and hubby Chris. We enjoy walking in Central Park, taking the baby on the carousel. I also love to run, play tennis, roller blade and watch Big Brother. I am also a photography buff. My mother and I enjoy taking pictures and sharing our work with each other. My father and I are very competitive on the tennis court. He usually beats me, but I can get in there are win a game every now and then. As for research and prep, I read dozens of papers a day and watch many many news programs. I also do a lot of reading on the Internet.
How has being a new mother affected your work schedule?

As you know, my schedule is so early, which is a blessing because it allows me to get home and spend a lot of the day with the baby. Let's just say I am always tired. But I love my time with Maya and I love my job-- so sleep is the sacrifice.

Tipped by: Kiran Chetry Yahoo Fan Club