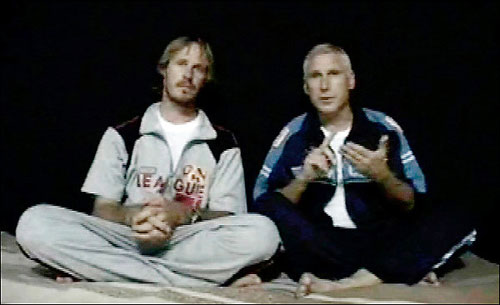 A terrorist group calling themselves Brigades of Holy Jihad have released a video of Fox News reporter Steve Centanni and cameraman Olaf Wiig. In the video demands are made for the release of "Muslim prisoners" within 72 hours. Steve Centanni and Olaf Wiig were taken hostage in gaza August 14, 2006. Since that time word had been scarce on the fate of the two.
There is no specific threats in the demands if they aren't met within the 72 hour deadline. The literal translation of the demand is that "If you implement our conditions we will implement our promise, otherwise you will have to wait,".
Something seems fishy about this group. They seem severely disorganized compared to previous hostage takings. Their threats are vague as are their demands.

The videotape was accompanied with a two-page statement condemning "the occupation of Iraq and Afghanistan," and complaining that "our people have been raped."

...

In the tape, Centanni, 60, and Wiig, 36, are shown against a dark background, seated cross-legged. They are wearing casual running suits and note that they have food, water, a change of clothes and access to showers. In the 90-second tape, the two were animated, made small jokes and urged their families not to worry.

"I will do the worrying for all of us," Wiig said.

Hot Air has a clip that was shown on Fox News of the two.
The Jawa Report has more.
Other Commentary:
Riehl World View has some disgusting responses found about the hostages across the web
Mary Katherine Ham
Flopping Aces
Captain's Quarters
Vital Perspective
Right Truth
Sister Toldjah
The Political Pit Bull
Assorted Babble by Suzie
Wizbang
Morning Coffee
Hyscience
Freedoms Zone