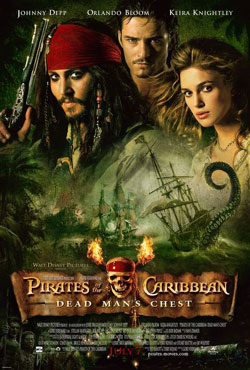 I took the family to see Pirates of the Caribbean: Dead Man's Chest yesterday and I was pretty disappointed with it. Sure the special effects were great and the storyline wasn't too horrible, but the movie quickly degenerated into a slapstick comedy. The first 30 minutes were boring, not only for the kids who I could see were getting a little annoyed at all the dialogue, but even for myself who is a fan of documentaries and willingly sits through multiple hours of dialogue every single day.
When the action started initially it was pretty good. Then all of the sudden Captain Jack Sparrow (played by Johnny Depp) is magically whisked away into the capture of some tribe on an island who revere him as a god -- with the underpinning that that's not an entirely good thing since they like to consume their god's flesh. There is no explanation on how he is captured, he's just there.
This is where the slapstick comedy starts and the movie quickly disappoints. With a subject like pirates you could choose to have exciting fights, witty dialogue and slight humor, but this was beyond the pale.
We have Jack Sparrow with the piece of log still tied to his back used to hang him over the fire using it to "accidentally" pole vault over a cliff edge.
We have pirates in large ball-like cages made out of human bones who then climb a cliff and roll the ball like hamsters down a hill.
We have a three way pirate sword fight that seems to go on for 10 minutes where the action isn't even focused on them, but on other things going on with them in the background. We have a ridiculous water wheel detaching with all three of the fighters running along it's top and fighting.
A headless ghoulie escapes with the dead man's chest of Davy Jones and loses his head while his body walks around headless trying to find it. Haven't we seen this gimmick too many times already?
The movie just goes on and on. It's way too long at 2 hours 31 minutes. I didn't know it was so long going in. I kept waiting for it to wrap up and they'd start a new storyline like Will Turner's (played by Orlando Bloom) father and how he gambles with eternal damnation for his sons soul. It just got to be too much.
Luckily I had received a gift card for the theater and didn't actually have to shell out my own cash to see this long, boring and disappointing slapstick comedy that should have been much more. I don't think it'd make a bad DVD rental if you already know to expect some over the top comedy that seems out of place, but for someone expecting a good pirate romp with some comedy that's enjoyable like the first movie I'd say save your money.