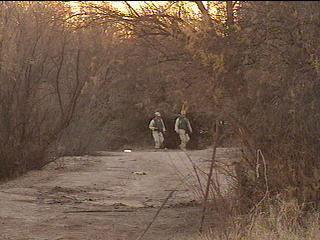 The Mexican military has once again crossed into the United States and this time they were caught by a news crew. KFOX caught several Mexican military personnel on camera with automatic weapons walking around on American soil. Ironically the news crew just happened to be doing a story at the time on the armed standoff last week with law enforcement at the border in Texas.
A day after the armed standoff in Texas the Mexican government said that those on the video taken by the Sheriff were US GI's dressed up as Mexican military in order to create an incident.
Department of Homeland Security Secretary Michael Chertoff last week said the incursions -- of which there have been over 200 in the past few years -- was no big deal, overblown and not a concern. It's always good to see the director of Homeland Security not be worried about foreign armies walking around on American soil.

As before, several men dressed in Mexican military garb appeared to violate the international boundary, in Hudspeth County, Texas, some 50 miles east of El Paso, local affiliate KFOX-TV reported today.

...

As the deputy and news crew watched, three soldiers emerged into the clearing before one hurried back into the concealment of brush, KFOX reported. But the deputy pointed out other, larger groups of soldiers engaged in a flanking action against him and the news crew, most probably, the deputy believes, in an attempt to figure out what they were doing.

"They are doing the classic thing, flanking around each side of us and actually coming up into the U.S. and trying to figure out what we are doing; they are looking at us very heavily," said the deputy, who was not identified in the report.

At that point KFOX reporter Ben Swann asked, "So I guess it's time to go?" and the deputy answered, "Yeah, it would definitely be time to get out of here."

The deputy chose to vacate the area because he was vastly outnumbered and outgunned, the report said.

And before everyone keeps blowing this off here's a word from a deputy who works the border daily.


In comments to KFOX, the deputy involved in this week's incident said, "If it's going to take a bunch of us getting killed down here on the river to show everybody that this is a problem, then its going to happen, one of these days it will happen."

Disturbing that nothing is being done about this. Mexico continues to say that these are drug cartel hired guns in military uniforms. While I don't buy that for a second, if that truly is the case than why isn't the Mexican military doing anything to prevent these groups from crossing into our border since we are supposedly their friend? Mexico has a lot more at stake in this than the Americans. While we are concerned with our security and could easily put massive force on the border, Mexico faces a public backlash against them from Americans that could affect them economically for decades to come.

Tipped by: Lonewacko