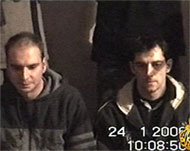 Video of two German engineers being held hostage in Iraq was broadcast on Al-Jazeera today. Thomas Nitzschke and Rene Braeunlich were taken hostage outside of their workplace on January 24, 2005. The two had only been in the country for a few days.
There is no word on which terrorist group is holding them hostage.

The two German engineers, who disappeared in northern Iraq on Tuesday, were shown on their knees in front of four kidnappers on the video shown by the television station on Friday.

The tape was dated 24 January, the day they were abducted in the northern industrial city of Beiji, about 240km north of Baghdad.

The hostages, identified by relatives as Thomas Nitzschke and Rene Braeunlich, arrived in Iraq on 22 January.

In my initial entry the names of the two were reported as their Arabic translation of Thomas Wischke and Rebiti Drata. It has since then been changed
Tipped by: The Jawa Report