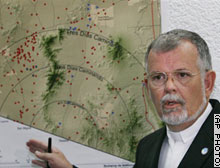 Mexico has said it will "rethink" it's plans to distribute the Humane Borders map I mentioned earlier. Their reasoning? It would tell the Minuteman Project where to wait for illegal aliens. Well here's some news for you Mexico, the Minuteman Project has an internet connection! They already know where the illegal aliens will cross.
They say the "rethinking" is not due to pressure and outrage by US citizens. Even our worthless Homeland Security Secretary Michael Chertoff admitted that it would encourage illegal immigration. That's a shocker.
They also take the time to try and slander the group once again by saying that the Minuteman Project attacks illegal aliens which simply isn't true.

Miguel Angel Paredes, spokesman for the federal Human Rights Commission, said the government wanted to "rethink" its plan because human rights officials in border states expressed concern that the maps would show anti-immigrant groups _ like the Minutemen civilian patrols _ where migrants likely would gather.

"This would be practically like telling the Minutemen where the migrants are going to be," Paredes said. "We are going to rethink this, so that we wouldn't almost be handing them over to groups that attack migrants."

...

The commission denied the maps would encourage illegal immigration, saying instead they would help guide those in trouble.

Now, the group will "seek other ways" to help migrants, Paredes said.

Well at least they admit they're helping illegal aliens cross the borders.
Other Commentary:
RightWingSparkle
Lonewacko
Iowa Voice