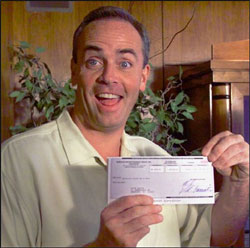 He didn't pay taxes on the million dollar first prize he won on season one of Survivor and Richard Hatch was led away in handcuffs after being found guilty of tax evasion.
He tried to say that he had made a deal behind the scene with those working on the show and that they would pay the taxes on it, but it didn't wash.
I have no sympathy for him.
In September, 2005 Richard Hatch plead innocent to the charges and said they were trumped up after he refused an earlier plea deal that would have given him a 2 year sentence. He now faces 13 years behind bars.

Hatch was handcuffed and taken into custody after U.S. District Judge Ernest Torres said he was a potential flight risk.

He also was convicted of evading taxes on $327,000 he earned as co-host of a Boston radio show and $28,000 in rent on property he owned. He was acquitted of seven bank, mail and wire fraud charges.

Hatch, 44, faces up to 13 years in prison and a fine of $600,000. Sentencing was scheduled for April 28.

...

Hatch's lawyer, Michael Minns, said Hatch caught fellow contestants cheating and struck a deal with the show's producers to pay his taxes if he won.

Other Commentary
Outside the Beltway