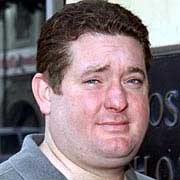 Actor Chris Penn, 40, brother of Sean Penn was found dead at a 4-story Santa Monica condominium. Police say there were no signs of foul play. His latest film, The Darwin Awards, was scheduled to debut today at the Sundance Film Festival.

Penn's body was found inside a four-story condominium complex near the beach on Ocean Avenue in Santa Monica. Police were called to the condominium complex by someone from within the building, Fabrega said.

An autopsy will be conducted to determine the cause of death, authorities said.

Chris Penn's credits included "Mulholland Falls," "Rumble Fish," "All the Right Moves," "Footloose" and "Rush Hour." He also played Nice Guy Eddie Cabot in the 1992 Quentin Tarantino crime drama "Reservoir Dogs."

Tipped by: Riehl World View