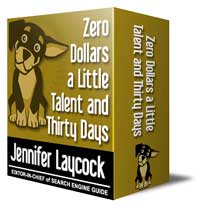 You have nothing. You have no money, you're semi-retarded technologically and you want to start some sort of online venture. What should you do?
Well, that's where Jennifer Laycock artificially set herself when starting out 30 days ago in an online adventure to see just how far she could take a new startup venture in a month. Jennifer Laycock is the Editor-In-Chief of Search Engine Guide.
In addition to taking up this challenge she vowed to document every step along the way through blog entries entitled Zero Cash, A Little Talent and 30 Days. From her Day 1 entry (don't run off yet, I'll tell you where you can get the whole thing in e-book form for free below)

The idea is to try to setup some type of business in my free time and see if I can start to turn a profit in a 30 day period. That shouldn't be too hard, since I'm also going to limit myself to spending zero cash out of pocket. That means that any sales at all will be profit.
The first 15 days of her venture are an exciting tale of discovery and planning. She stumbles around and even makes a few mistakes. Seeing her make her very first sale gave me the same thrill --even just as a reader-- that I get every time I set something new up and have the first taste of success.
There's so much work entailed in getting something off of the ground that when you do finally see that it works it makes you want to jump up and shout.
She goes into the struggles of using Blogger, implementing Google AdSense, running a Google AdWords campaign, using CafePress to develop a product line, implementing Chitika and Amazon affiliates programs, hosting and tracking traffic and analytics to see where your success is coming from.
Her second 15 days aren't as exciting. Sure, she does a good job of giving you daily details such as traffic numbers, profits and expenses, but the thrill isn't there anymore. I wish she would have given a little more on the number of sales. How many sales did she need to make it to those profit numbers? What was her markup on items and how did she determine what to set them to?
More and more of her entries are filled with details on a Press Release which just isn't that interesting and could have been better served by one blog entry at the very end rather than days of discussion on it. I'll forgive her though, she's a marketing person and that kind of stuff seems to get them overly excited.
I would have been more happy if she had taken it further with more experiments, but she seemed to rest on her laurels for the second half of the challenge. She did take a bold experiment in "way out there" thinking by trying to sell her product, which she can buy at a discount, on eBay. That's the kind of thing I wish she would have tried more of in the experiment. Some really razor thin margin type stuff that could make a handsome profit if successful and done in large quantity.
Now that's not to say that her story isn't compelling, it is and I'd recommend you go read it right now. You can get the entire 30 days in e-book form (PDF) at a website Jennifer has set up for free. She does ask that you donate to a good cause though.
This entry was crossposted from Digger's Inside Online Advertising website. Head over there if you haven't checked it out yet.