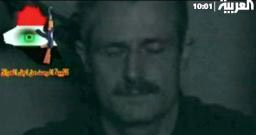 Bernard Planche, a 52-year-old French engineer, was shown on al-Arabiya TV with a gun pointed at his head while he read a statement. The previously unknown terrorist group calling itself Battalion of the Lookout for Iraq demanded the removal of French troops from Iraq or they would kill Planche. There are no French troops in Iraq and France was an outspoken critique of the invasion. Planche was in Iraq working as a contractor for a private company called Aaccess on water distribution. He was taken hostage by 7 gunmen on December 5, 2005.
This is not the first time French hostages have been taken. In August, 2004 French journalists, Christian Chesnot and Georges Malbrunot, were taken hostage by the Islamic Army in Iraq. There was widespread rumors that France paid ransoms for the release of the French journalists. You reap what you sow.
Planche's family has come out pleading for his release.

The daughter of Bernard Planche, Isabelle, and his brother, Gille, pleaded for his release in a videotape broadcast on Friday by the Dubai-based al-Arabiya news channel.

Isabelle Planche said, as an interpreter dubbed her appeal into Arabic: "He came to Iraq to help in its reconstruction and aid the Iraqi people.

"Please release him. He is my father, and I love him," she pleaded.

Her uncle, Gille, said that his brother was in Iraq only to help its people, appealing for his release "only for the sake of his daughter, Isabelle."

French officials came out and reiterated that they would have rather left Saddam Hussein in power and reminded us that they haven't helped one bit.


"I emphasise that France has no military presence in Iraq and that it has always argued for full sovereignty to be restored to the country," said French foreign minister Philippe Douste-Blazy.

We also hope for his release. Planche seems like a guy just trying to make a living by doing something that helps other people's lives be just a little easier.
You negotiate with terrorists and this is what you get. When will these people learn?
Tipped by: Right Truth (via Inside The Bullpen)
Other Commentary: