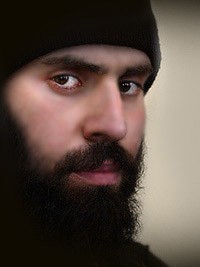 Vladimir Arutunyan, the man who threw a grenade at President Bush and Georgian President Mikhail Saakashvili in May 2005, has sewn his own mouth shut in an act of protest. Arutunyan claims his right have been violated.

Arutuynan was arrested in Tbilisi on July 20 after a shootout with Georgian police that resulted in the death of Col. Zurab Kvlividze, the head of the Georgian Interior Ministry's counterintelligence department.

The defendant came to the court hearing on Tuesday with his mouth sewed up. He claimed earlier his rights were violated. At the beginning of December, Arutunyan refused to testify in his case unless the representatives of Human Rights Watch attended the proceedings. He said the sentence had been "handed down even before the trial began."

You know what buddy, you killed someone. Whether you are guilty of the grenade assault or not you should be executed immediately.
At least he kept it to himself and wasn't like this Filipino man who nailed his wife's mouth shut.
Tipped by: Interested Participant (via The Jawa Report) who questions how he got needle and thread and has some suggestions of other places Arutunyan can sew up as well.

what you conveniently neglect to mention about the grenade "attack" was that is was a fake grenade that did not contain any kind of explosive whatsoever. it was a practical joke, albeit not funny at all.
also, whether or not this guy killed somebody does not impact whether or not we withhold his rights. to do so is criminal. because he's a criminal, that makes it okay for us to be criminal? no.
this sicko has rights, no matter what, as he should. people like you are going to be the end of free civilization.
Posted by: Mike Chambers on December 14, 2008 03:16 PM