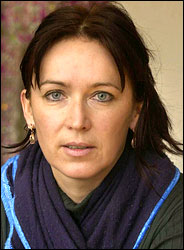 I applaud Susanne Osthoff. There has been a lot said about Susanne Osthoff and her recent decision to return to Iraq to get back to work after being taken hostage by terrorists. While some would decry her action as foolish or stupid I do not. What is she expected to do, give up her whole career that she has worked at for years and years and live some hermit life in a cave?
The German government is furious over the matter after. Rumors abound that they paid a ransom and let out a killer terrorist wanted by the US in order to secure Susanne Osthoff's released. If this is true they have no reason to be mad at the victim, but only at themselves, for being foolish and negotiating with terrorists.

The German Government angrily rebuked a former hostage yesterday who is determined to return to Iraq despite being held captive for three weeks by a Sunni gang.

Susanne Osthoff, a 43-year-old archaeologist, announced this week on al-Jazeera television that she would go back to her work in northern Iraq, trying to set up a German cultural centre in Arbil.

Angela Merkel's new Government, which regards the freeing of Frau Osthoff this month as its first foreign policy triumph, is furious. It made huge efforts to secure her release and is widely believed to have paid a ransom.

It has now blocked all funding for her project and has told her that she should leave the region immediately. She is believed currently to be in Jordan, with her 12-year-old daughter, preparing to return.

"I would have little sympathy if Frau Osthoff puts herself again in danger considering the intensive efforts made by many people to secure her release," said Frank-Walter Steinmeier, the German Foreign Minister, who headed a team that negotiated her release.

The German Government is looking even more like a bunch of angry assholes by cutting off her funding because she wants to go back to work. I can see why they're angry after
negotiating with terrorists
for her freedom. Especially after German Chancellor
Angela Merkel said they would not negotiate with terrorists in her first speech
.
There is one thing I think everyone can agree on though and that is that Susanne Osthoff has an affection for her terrorist captors. Just like Italian reporter Giuliana Sgrena after her release, Osthoff has defended the terrorists and says in an interview with al-Jazeera that they are not criminals.
Speaking to Aljazeera satellite channel, Susanne Osthoff said her captors told her not to be afraid as her kidnapping was "politically motivated".

"Do not be afraid. We do not harm women or children and you are a Muslim," she quoted them as saying. "I was so happy to know that I had not fallen into the hands of criminals."

Osthoff, a Muslim convert and Arabic speaker, said her captors demanded German humanitarian aid for Iraq's Sunni Arabs and stated clearly that they did not want a ransom.

"They said we don't want money ... Maybe we want from Germany ... hospitals and schools in the Sunni triangle [area northwest of Baghdad], and they would like to get money in the form of humanitarian aid."

She described her captors as "poor people" and said that she "cannot blame them for kidnapping her, as they cannot enter [Baghdad's heavily fortified] Green Zone to kidnap Americans."

Oh they are such sweet people. They just want aid, but they continue to obstruct it through their actions. I do have to mention that there is no word still on her driver who was taken hostage with her. He was probably taken out back and shot by these "peace loving" and "law abiding" people. On top of it she sympathizes with them that they had to take her hostage because they were too poor to get an American.
While I applaud her in continuing her important work as an archaeologist her thoughts on reality are so skewed that it is almost too much to believe. I wish her no harm -- unlike some of those commenting at the articles below -- but it does make you kinda wonder if she was somehow complacent in her own capture.
Other Commentary
Davids Medienkritik
Captain's Quarters
In The Bullpen
Say Anything
Right Wing News
The Big Pharaoh
TigerHawk
Michelle Malkin
Little Green Footballs
Tinkerty Tonk
Moonbattery
The Jawa Report
Small Dead Animals
JB on the Rocks