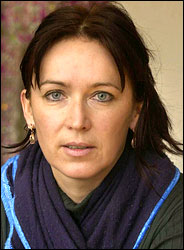 Susanne Osthoff, the German Archaeologist who was taken hostage by terrorists, has been freed and is reported to be at the German embassy in Baghdad. There were no details on whether she was released by the terrorists or rescued.
Susanne Osthoff disappeared on November 25, 2005. November 30, 2005 Osthoff and her driver appeared on video blindfolded with a terrorist standing next to her with a Rocket Propelled Grenade. The terrorist group has not been identified, though Der Spiegel has reported they call themselves Saraya al-Zilzal, or Brigades of the Earthquake. December 1, 2005 Angela Merkel, the recently elected German Chancellor made a statement that the German government would not negotiate with terrorists.
There is no word on Osthoff's driver who was also taken hostage with her.

"I am glad to be able to announce to you ... that Mrs. Susanne Osthoff is no longer in the hands of the kidnappers," [Foreign Minister Frank-Walter] Steinmeier said at a hastily arranged news conference. "As of today, she is safely in the care of the German Embassy in Baghdad."

He added that "our impression after talking to her is that she is in good physical condition."

...

In the Bavarian town of Glonn, where Osthoff lived for several years, the mayor hung a sign reading "Thank you!" outside the town hall next to a photo of the former captive.

This is great news and I hope it doesn't deter Susanne Osthoff from following her calling as an archaeologist and continuing to shed some light on the past of human civilization.