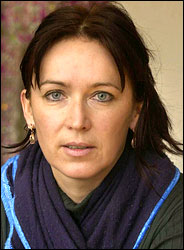 German Archaeologist
Susanne Osthoff
, 43, was taken hostage in Iraq by an unknown terrorist group. She is the first German national to be taken hostage in the country. The terrorist group released a video showing Osthoff alongside a terrorist holding a rocket propelled grenade. They demanded that if the German government did not stop working with the new Iraqi government that they would execute Osthoff.
Osthoff and her driver -- whose name has not been released -- were taken hostage near Nineveh.
Ms. Osthoff, the German press reported, has lived in Iraq for many years and is fluent in Arabic. She was married to an Iraqi man but the couple divorced some years ago. Ms. Osthoff has a 10-year-old daughter who lives in a boarding school in southern Germany.

After news of Ms. Osthoff's kidnapping became known here, a German newspaper, the Neue Osnabrücker Zeiting, reported that Ms. Osthoff had been targeted by extremist groups close to Abu Musab al-Zarqawi during the summer, when she was living in Mosul in northern Iraq. At the time, the newspaper said, Ms. Osthoff was escorted by American soldiers to Baghdad's heavily fortified Green Zone. Since then, Ms. Osthoff has been negotiating both with the German Embassy in Baghdad and the local Kurdish-dominated government in the northern town of Arbil to build a German cultural center there, the newspaper said.
These terrorists have never shown some common sense. This is an archaeologist and aid worker who has worked to better the standing of Iraq and its people throughout the years and they just crap all over it.
Chad at In The Bullpen points out that the group that was looking for her in the summer may have finally found her. We can only hope that she is either released or rescued soon.
So much for Germany's opposition to the Iraqi conflict. Countries who have opposed the Iraqi conflict have now had their citizens taken hostage or attacked on their homeland. Anyone who thought they could just appease terrorists and get a "free pass" have been proven wrong over and over again.
Other Commentary: