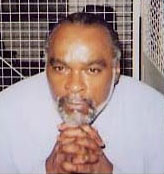 The four time murderer and founder of the Crips gang, Stanley "Tookie" Williams, was put to death by lethal injection this morning at San Quentin State Prison and declared dead at 12:35 AM PST. There is a lot of speculation that Stanley "Tookie" Williams was responsible for more than the four murder he was convicted of.
Finally, justice has been done nearly 26 years after he killed four hard working people who were doing nothing but trying to live a law abiding life day to day. Those who have been out there calling for the sparing of his life have probably never had anything as tragic as a vicious gang founder come in and lay their loved one face down on the floor and then blasted them in the back twice with a shotgun. Neither have they had a beloved daughter of two hard working friends get shot in the face after the vicious killing of her parents.
This man was a thug and a killer and the world is a better place without him in it. There is nothing he could have ever done to justify him having lived this long after his victims.
See also "Arnold Schwarzenegger Denies Clemency In Stanley "Tookie" Williams Case"
Others Covering:
Michelle Malkin
Flap's Blog
yea u kno i researched stanley tookie williams in high school n i think if u had more of an understanding about what he did in prison n what he went through in prison i think you'd show more compassion for him
Posted by: noneya on November 7, 2006 07:43 PM