Update: December 19, 2005
See: Video Of American Hostage Ronald Schulz Execution By Islamic Army In Iraq Released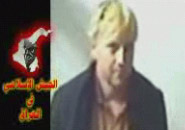 A message posted to a known terrorist website says that Ronald Schulz, the American security consultant taken hostage, has been killed by the terrorist group Islamic Army In Iraq. There were no pictures, video or other evidence of the claim.

A statement posted on a website often used by insurgents said the Islamic Army in Iraq killed the security consultant, identified as Ronald Schulz, because the US government had not met its demands, which included freeing all Iraqi prisoners.

"War criminal (US President George W) Bush continues with his arrogance and no one has any value unless they serve his criminal interests, therefore the American security adviser pig at the Housing Ministry has been killed," the statement said.

The statement's authenticity could not be verified and no pictures or video accompanied the statement.

Schulz sounds like a descent upstanding man. Here is a little background on him.

Ronald Schulz graduated from Jamestown High School in 1983, then left to join the Marines.

Richard Hilgemann, a high school teammate, said Schulz was a "laid-back, down-to-earth guy" and "a good all-around friend."

As a cross country runner, "he always kept his nose to the pavement and worked as hard as he could," said Hilgemann ...

Schulz served in the Marine Corps from 1984 to 1991, his brother said, and after his discharge he moved to the Anchorage, Alaska, suburb of Eagle River.

...

Stark, said Schulz, who is divorced, keeps a low profile, but is "quick to smile, very quiet and mellow, into camping and fishing and hunting and hiking, rock climbing."


Tipped by: The Jawa Report who draws a link between The Swords Of Righteousness Brigade, whom kidnapped 4 peace activists, and The Islamic Army In Iraq
Other Commentary:
Hyscience
In The Bullpen
Six Meat Buffet
No commentary, but some comments at Ace of Spades