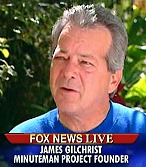 James Gilchrist, founder of the Minuteman Project is on the ballot tomorrow in a runoff for the 48th district in California. Gilchrist placed 3rd in the election behind two Republicans in the election on October 4, 2005 to fill Chris Cox's seat which he vacated in August to take up the post of chairman of the Securities and Exchange Commission.
Be sure to vote for Gilchrist tomorrow if you can.
Also, I've been informed by reader Bob that there's an exclusive interview with Gilchrist over at ScooopRadio.com. I haven't had a chance to listen to it yet, but even if you can't vote for him go have a listen. Both he and Chris Simcox -- the co-founder of the Minuteman Project -- are in the first 20 minutes of the interview.