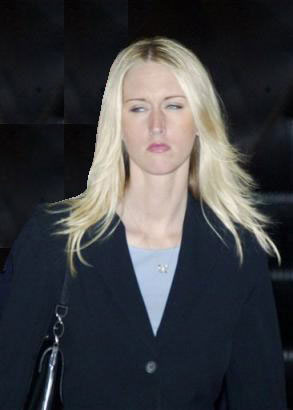 Amber Frey, the 5 week mistress and ultimate downfall of
Scott Peterson
, has been bilking Anthony Flores, 29, out of $175 a month for four years by claiming he is the father of her child. Frey also denied Flores visitation rights. DNA tests have now confirmed that he is not the father and that a local business owner, Christopher Funch, is. Frey, a massage therapist, came out and basked in the media spotlight during the trial. Fame bites both ways doesn't it bitch?
The question now is whether Frey has to pay back the almost $8,400 she's stolen from Flores over the past 4 years. There is no reason she should not have to since obviously she knew there was a possibility it wasn't his.
Frey's attorney, Gloria Allred, said Wednesday that her client never intended to deceive Flores.

"Amber, in good faith, always believed that Mr. Flores was her child's father," Allred said.

Frey, a massage therapist from Fresno, was Peterson's mistress when he killed his pregnant wife, Laci, in December 2003. Her testimony helped prosecutors convict the fertilizer salesman, who was sentenced to death.
Yes, and your angel of a client never thought she should bring up the fact that she had been having sexual relations with another man at the time and that he could also possibly be the father? How can you call it "in good faith"? There's a special place in hell for this woman.
Also see my entry from August 11, 2004 "Amber Frey is Worthless: A Dissection of Her Testimony"
Tipped by: FARK
Sounds like Mr. Flores was not so smart. He should have insisted right away. In some states, just the verbal admission that you are the father is enough.
Mr. Flores isn't smart at all. This Amber Frey bitch... someone needs to kick her @$$ and then have her sterilized.
Posted by: Thomas Carney on October 17, 2005 07:14 PM