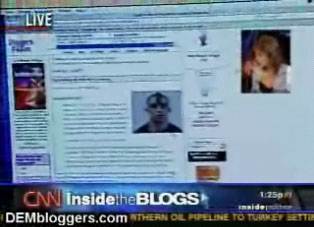 I was just notified by Mark Williams at
DemBloggers
that Diggers Realm showed up on CNN's "Inside the Blogs" with
Abbi Tatton
.
It was covered for the story posted by guest poster Mike Pechar of Interested Participant on the bloody chainsaw border crosser Gregory Despres
I was tipped by DemBloggers where Diggers Realm is the last item covered along with Michelle Malkins coverage of the issue as well.
Needless to say I was thrilled to find out about this.
You can watch the video below.
dude, that's not abbi, that's jacki schechner, the blog reporter.
Posted by: jt on June 9, 2005 08:41 AM