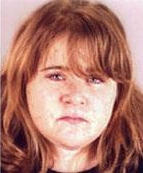 Rebecca Ann Boicelli, 34, pleaded to one count of a lewd act upon a child at least 10 years younger than herself after her lawyer failed to have the case dismissed. Boicelli was arrested in January and held on $500,000 bail after she delivered her baby and a paternity test shows it matched the DNA of her former 14-year-old student. She faces sentencing August 19.
According to evidence presented in court, Boicelli first met the boy identified in court as John Doe when he was 14 and she was his teacher at a Redwood City school.

The following year, when the boy was 15 and no longer Boicelli's student, witnesses reported seeing her and the boy together "in what appeared to be in an intimate relationship," Raffaelli said. The San Mateo County District Attorney's office investigated the case for about two years before filing charges.

In the 2002-03 and 2003-04 school years Boicelli worked at Redwood City's Roy Cloud School, teaching math, science, P.E. and co-teaching sex education to eighth grade students.

According to the testimony of Redwood City Police Detective Carmine Galotta, the victim was a "frequent visitor" around Roy Cloud School, both on and off school hours. Boicelli often had her classroom drapes closed, Galotta said.

Boicelli introduced the boy to colleagues and students as her 21-year-old cousin, Galotta said.

Boicelli was also a "constant visitor" at the boy's apartment complex when his mother was not home, according to Galotta. The teen's mother reportedly told Galotta that Boicelli would often keep her son out very late. The boy claimed he was helping his teacher paint, his mother told police.

The victim initially claimed that he never had intercourse with Boicelli. When confronted with the DNA evidence about the child, the boy told Galotta he had sex with Boicelli only once, in Reno or Lake Tahoe Nevada.
Also be sure to see other sickos in the Diggers Realm Sicko Archive
Tipped by: Interested Participant who has been on this case from the beginning here then here then here.
"I am a former student of Rebecca Boicelli.. She is a very sweet loving lady!! I understand what she did is illegal but you guys have no f**cking rite to call her a siko...she didnt rape him or anithing.. He decide to have sex wit her...the baby is so aordable....n thanx to noisy ppl the baby will grow up with out his mother for his first 5 yrs..but his grandma is doing a very well job on taking car of him...and if ani of u have a prob about mi comment email me.....misscachetona_rwc14@yahoo.com"
I'll make a comment.......I think you should study harder in 'Skool', learn how to spell, get your head out of your ass, etc.
And definitely just shut the F*** up.
Posted by: Wayne Schmidt on October 14, 2005 03:37 AM