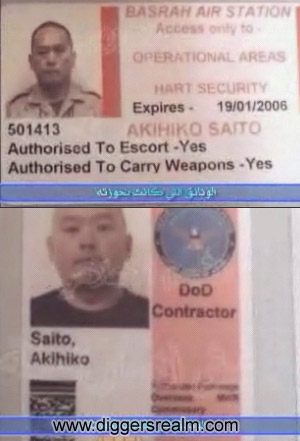 The
Army of Ansar al-Sunnah
has posted a video on its website of what they claim is Akihiko Saito's dead body. They claim Saito, a Japanese security guard
taken hostage on May 9, 2005
, died from wounds sustained during his capture.
Warning Graphic Pictures In The Extended Entry
The Ansar al-Sunnah Army has said Akihiko Saito, a Japanese security consultant who has been missing in Iraq since the Sunni militant group ambushed a convoy he was riding in earlier this month, died after being injured in a shooting.

The group has posted on its website an image of a man on his back covered in blood, whom it claims is Saito, along with an image of his passport.
The image was contained in a four-minute video message on the website.

The message said Mr Saito died from injuries after being shot many times, and a subtitle warned people against working with US troops.

Japanese Foreign Minister Nobutaka Machimura told reporters after seeing the image that the Foreign Ministry could not tell whether it belongs to Saito.

"We will hasten work to determine if it was Saito's," Mr Machimura said.