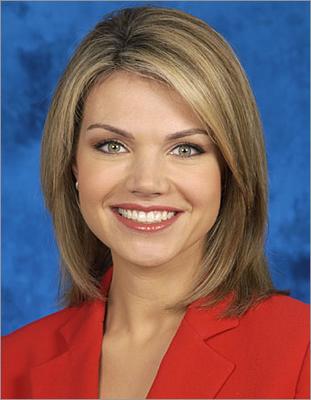 I reported on May 6, 2005 on
Fox News losing Heather Nauert to ABC
. At the time there was no idea what role Heather would play at ABC and both networks were hush hush on her departure.
I have now received some information from a reader that Heather has shown up on an internet only broadcast that is for subscribers only and On Demand called ABC News Now.
From reader Chris Mackey of the Yahoo Heather Nauert fan club.
Heather Nauert is anchoring a show on ABCNewsNows. It is the internet ABC News On Demand. So, you have to pay if you want to see her now. Too bad. Maybe one day she'll make it back to national television. I can't actually think of something that would have been a worse decision for her. I doubt that many people even tune in to the internet for video news.

Anyway, I called them and they said she anchored a show yesterday. He wasn't sure if she would be anchoring one today. To those who get abc news now, have fun. The strange thing is, the abc switchboard operator has a listing of everyone who works for abc news, and heather is still not in there, something the operator felt was odd as well. Anyway, i get the feeling, heather jumped from john gibson's show right into abc's dark little closet.

not many people are going to see her on the internet. too bad, especially for someone who had said she had wanted to be on tv ever since she was 16! Oh well, here's hoping one day the abc execs will bump her back to tv land instead of internet. Until then, Good bye Heather
Heather racked up 7.4% of the vote in the second "
Who is the Sexiest Fox News Babe?
" poll we ran here and 5% in the
first poll
we ran back in December.
Hey Digger,
According to Variety, Fox News refused to extend Rita Cosby's contract. www.variety.com/VR1117922709.html
that's a link.
Personally, I never watched her show, but she might be headed to ABCNewsNow, like Heather Nauert. I heard some cable companies might be picking that up, making it ABC's 24 hour news channel. Some guys and girls at Fox who are waiting for advancement might make the same move. However, it's not definate where Cosby is going.
Posted by: chris on May 12, 2005 09:35 PM
Hey Digger,
According to someone at ABC, Heather Nauert will be working as a general assignment correspondent in Los Angeles.
Posted by: Chris on June 2, 2005 05:24 PM
I can see that Iam not the only person who thinks heather nauert does not belong on television. nauert is more cut out to be working behind the scenes at a corporate level and away from the camera. fox news is actually hurting its ratings by keeping nauert on. the fact that she is assigned to the very early shift on the fox news 5 in NYC is a sign that she is not a favorite of news watchers. also, her air of self importance is abrasive to the point of making any reporter shes paired with visibly uncomfortable. as to her follow ups with on air interviews, nauert has a very poor skill set when it comes to posing the right questions and engaging the guest. any attempts at sincerity come across as obscenely hollow and patronizing. rob corning and jodi applegate were let go for the very same reasons although to their credit, they at least were more informative and knew to carry an interview. we can only hope that fox news five in NYC will realize this and put someone who will add the sorely needed lift to carry the shows early morning program.
Posted by: Carnal on September 2, 2011 09:33 AM