| | |
| --- | --- |
| By / March 29, 2005 11:34 AM | |
So
Michelle Malkin
took
this little quiz
on which Incredibles character you are. I decided to take it and see.
I was not surprised that I ended up being Violet, the invisible girl daughter, not because I like dressing up in girly clothes, but because she was my favorite character in the movie. If you haven't seen the movie yet check it out it is great! The DVD has a lot of great extras as well.
If you don't have it click below to order it now!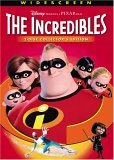 This entry is in the following archive(s):
Next and Previous Entries:
Posted by Digger on March 29, 2005 11:34 AM (Permalink)

Posted by: mzc on April 13, 2005 07:04 PM
I'm Also Violet I dont Know Why
Posted by: Shane on May 4, 2005 11:06 AM
Posted by: Soph on May 23, 2005 01:58 AM
ha ich was dash too! he's the best! ;)
Posted by: Yippiepix on June 2, 2005 08:51 AM
poop i was mr incredible :( im a flippinn girl i dont wan to be some middle aged guy!
Posted by: tabi on July 24, 2005 04:05 PM