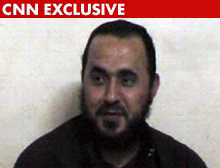 CNN claims to have some new photos that are believed to be of terrorist mastermind Abu Musab al-Zarqawi, who heads the terrorist group in Iraq called
al-Qaeda in Iraq
.
Zarqawi is the terrorist responsible for numerous beheadings and suicide attacks in Iraq. For more stories involving Zarqawi see the Diggers Realm Abu Musab al-Zarqawi Archives.
CNN has obtained new pictures believed to show America's most-wanted terrorist in Iraq, Abu Musab al-Zarqawi, whose network carries out frequent attacks against Iraqi and U.S. civilians and multinational troops.

...

Sources tell CNN the man in the photos is indeed al-Zarqawi.

...

It is unclear how recently the photos were taken, but they appear to be taken at the same time and place.

In the pictures, the man believed to be al-Zarqawi is bearded and well-trimmed, and he appears relaxed.

It looks as if he is sitting on the floor against a wall. He is wearing a dark shirt or turtleneck.

In the pictures he is seen smiling, looking straight ahead or chatting with unknown people.
Tipped by: The Jawa Report via Free Thoughts
Other Commentary:
I have loved al zarqawi. he was good guy for you fucking bullshit americans.
Posted by: meraj on June 25, 2006 12:53 AM
Zarkawi never dies.there are so many zarkawi's still fighting in the war imposed by americans.
Posted by: haroon on October 7, 2006 05:38 PM
Bullshit americans? You loved Zarkawi? What kind of sick person are you? Do you know what he has done to innocent families, and how he has effected everyone? You are a sick disgusting excuse for a human being.
Posted by: john on May 24, 2007 06:17 PM