The coffee blasted edition of the 80 second challenge returns. While typing this and sipping some coffee I had to cough. Coffee and coughing don't mix as my monitor and keyboard will attest.
There's sure to be something you've missed around the blogosphere. See if you can get through these in under 80 seconds -- or 80 minutes for that matter.
(All links open in a new window for faster cruising)
Wizbang tips us to the fact that Yahoo has their video search up at video.search.yahoo.com. It's pretty cool check it out.
The Moderate Voice is covering the fact that the city of Salinas out here in California is closing three libraries due to budget cutbacks. Somehow I doubt they couldn't find the $3 million required somewhere else.
Right Thinking From The Left Coast tells us that the Evil Oil Greedy Empire of America has forgiven all $4.1 billion of Iraqi debt.
Ace of Spades, Captain's Quarters and Backcountry Conservative report that Harrison Ford is signed to do a movie on Iraq. Ace gives us the top ten movies Harrison would have done during WWII including "10. A light romantic comedy titled Guess Who's Giving It To Your Wife Back Home?" and more.
PoliBlog tells us
Ukrainian opposition leader Viktor Yushchenko was poisoned by TCDD, the most harmful known form of dioxin, the scientist who conducted tests on the presidential candidate's blood said Friday.
Michelle Malkin rips President Bush's press conference remarks on immigration apart. Kudos to Michelle for once again sticking it to "the man".
California Yankee is going to have "sporadic posting" because their house caught on fire. Hope your home is quickly restored, what a bad time of year to have that happen.
The Commmissar over at The Politburo Diktat tells us about California possibly expanding death row because there's too many residents. One Berkley law professor says "...it may function to give us exactly what we want, which is a death penalty without executions." That's not what I want. Bullet to the head.
The Education Wonks reveal that England's education system is just as idiotic as America's in regards to weapons. He tells us of a ban on pencil sharpeners in jolly ole Manchester. The wonks were also chosen as this weeks watchers council entry! Congrats!
There's also word that Powerline was named Time's Blog of the Year. Congratulations to Powerline, but color me skeptical on whether this will be a yearly award. It just seems kind of ass-kissing, like someone picking a newspaper of the year just to get attention. Don't get me wrong they deserve awards, but I somehow doubt there is going to be a Blog of the Year every year.
* * *
Finally, here's a vision of what Christmas will be like next year if something isn't done.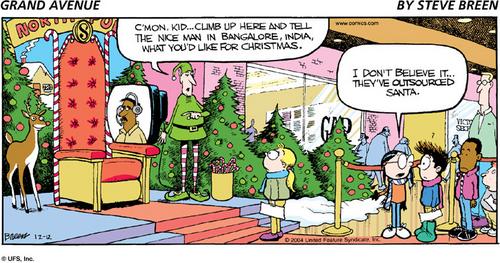 Grand Ave (via Michelle Malkin)