| | |
| --- | --- |
| By / November 24, 2004 10:34 AM | |
Investigations in Fallujah have turned up a number of facts and images that show us the horrors that were happening in the city. Several facts that have emerged (courtesy of IMEF & MNC-I EFFECTS Exploitation Team).
| | |
| --- | --- |
| Mosques in Fallujah | 100 |
| Mosques used as fighting positions/Weapons caches | 60 |
| Hospitals used as Defensive Positions | 3 |
| Improvised Explosive Device (IED) Factories | 11 |
| Slaughter House/Toture Chambers | 3 |
| Number of Major Weapons Storage Areas in the city | 203 |
| Evidence of Foreign Fighter Involvement | 2 |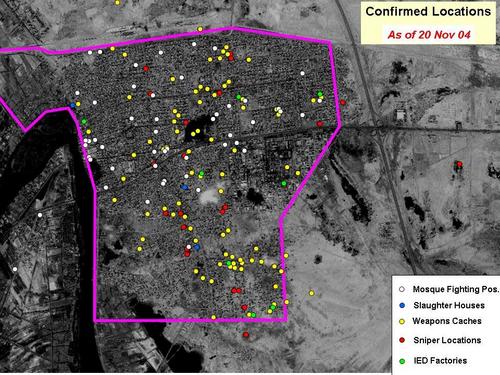 Above is Fallujah with locations of violations of the Laws of Armed Conflict, as of Nov 20.
Click images below for a larger popup image.
Weapons and IED materials found ready and staged for military action in a mosque.
Cemetaries also have hidden weapons caches and weapons ready and staged for military action.
An IED near Completion
Truck bomb (Rusty has more on this truck with Texas Plates)
RPG's
Homemade Shoulder Fired Missiles
A blood stained room.
Blood stained wall
Hostage discovered in Fallujah.
Mortar and AA guns
Weapons Cache
What appears to be Abu Musab al-Zarqawi's Banner
Another Banner
Thanks to Rusty Shackleford and John Donovan for the tip.
They both also have coverage on this.
Others Covering

This entry is in the following archive(s):
Next and Previous Entries:
Posted by Digger on November 24, 2004 10:34 AM (Permalink)

Thanks for screen grabbing these photos. It's the exact proof I need to build the case of US false-flag ops. If you remember, that SUV found in the "bombmaking facility was found to have Texas plates. After the recent discovery of Mossad agents posing as British SAS disguised as Mahdi Army Arabs with wigs and dishdashes, riding in a Cressida packed with explosives, and the most recent revelation this week of a "stolen" US liscensed cars found prior to a suicide bombing, it leaves little doubt who's really behind many of these events.
" target="_blank">US CARS USED IN SUICIDE ATTACKS
U
Posted by: mondo on October 4, 2005 07:30 PM
Your info is excellent. We would like to link with Diggers Realm and other friends, and publish some of your material on our web site.
We offer 200 books and nearly 30 of them are focused on military and intelligence aspects (e.g. HUMINT) aspects of the Afghan/Iraq conflicts. We also offer four periodic newsletters (EYES ONLY, AGITPROP, SHARP END and UNCONVENTIONAL WARFARE). We invite you to take a look at www.quikmaneuvers.com and let's work together.
Regards,
Breaker.
Posted by: Breaker on February 27, 2007 07:13 PM