| | |
| --- | --- |
| By / November 18, 2004 02:44 PM | |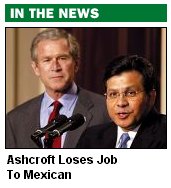 Ahh, you just gotta love The Onion


This entry is in the following archive(s):
Next and Previous Entries:
Posted by Digger on November 18, 2004 02:44 PM (Permalink)

Yeah, 'spose it's better than another non english speaking illeteriate drug dealer from south of the border . . But then He IS a lawyer . . Hmmmm . . Damned Immigration policy . .
Posted by: large on November 19, 2004 06:21 AM