Every once in awhile I get the drawing bug once again and sit down to draw. Then I put it up on my website so others can laugh at my crappy drawings. On the 14th, very early in the morning, the bug bit once again and I whipped out 4 sketches. I focused more on trying to get proportions down and not so much on details. I used my big, fat, dark ebony pencil for the female sketches and a combination of 2h, hb, 2b, tortillon and kneaded eraser for the dwarf.
Maybe some artsy-fartsy types out there would like to rip them apart and critique me. Go for it.
Clicking an image pops up a super large sized image.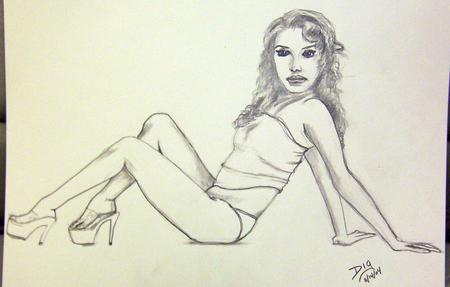 didn't realise you were an adolescent dungeons and dragon player. Mind, should have guessed from some of the posts.........
Posted by: Matt Bing on November 18, 2004 04:27 PM
Well, not a D&D player, was just looking for something with interesting patterns to draw.

Posted by: Digger on November 18, 2004 05:01 PM
good job!..but more details on your stroke..
Posted by: pitt on December 10, 2005 01:54 AM
Sheesh, when you look back on your art it always looks worse. At least in my case that always happens. The pictures above look like crap to me now, all out of proportion.
Posted by: Digger on December 10, 2005 02:15 AM